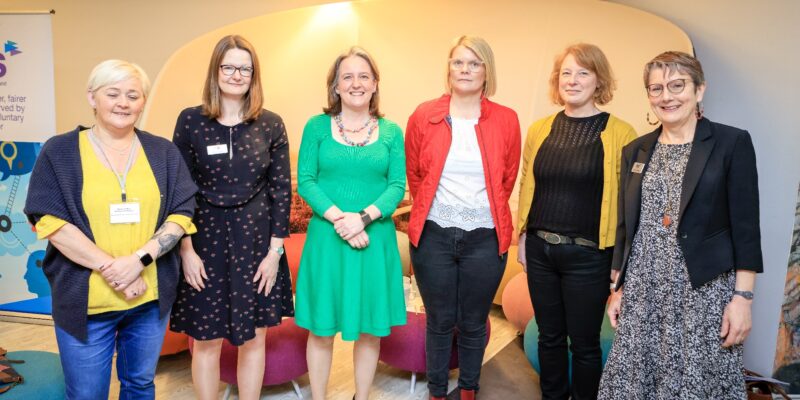 On the 24th May 2023, we were joined by Community Link Workers, Programme Leads, Third Sector Partners and our conference speakers for the first ever Scottish Community Link Worker Network Annual Conference. We welcomed 140 attendees to the conference for a day which included, keynote speakers, plenary speakers, workshops, panel discussions, networking and an exhibition.
View the photos from the day:

Read the Minister for Social Care, Mental Wellbeing and Sport's presentation here:
Ministerial Speech – Scottish Community Link Worker Network Conference – Maree Todd – 24 May 2023
View the PowerPoint Presentations from the day:
Gerry McCartney, University of Glasgow
Findlay Smith, Voluntary Health Scotland
Lorna Kelly, Health and Social Care Scotland
View the Link Worker Led workshop PowerPoint Presentations:
Workshop One: Asylum Seeker Specialist CLW Workshop by We are with you Glasgow
Workshop Two: The Bells That Ring Group Reflective Practice in Action – CVS Inverclyde
Workshop Three: Link Working and Medical Students, The Edinburgh Experience The University of Edinburgh and Edinburgh CLW Service
Workshop Four: My Wellbeing Matters by North Ayrshire
Read our exhibitors' Blogs:
Scottish Community Link Worker Network: Roisin's Blog: Giving a Voice to Scotland's Community Link Workers
Chest Heart &Stroke Scotland: Chris's Blog: Chest Heart and Stroke Scotland supporting people
Home Energy Scotland: Mark's Blog: Partnering to support health and wellbeing
Social Security Scotland: Laura's Bog: How community link workers can help people access disability benefits
Change Mental Health: Clare's Blog: Stigma, financial support and the cost of living crisis
Paths For All: Helen's Blog: Walking and wheeling can be the best medicine
Sight Scotland and Sight Veterans Scotland:  Michael's Blog: The Art of Combatting Loneliness
The Red Cross Scotland: Murdoch's Blog: Connecting Human Kindness to Human Crisis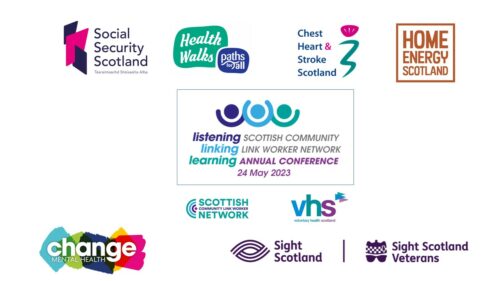 Read about the Conference featured in Healthandcare.scot:
We had very positive and helpful feedback from the day- read the feedback evaluation here:
Evaluation from SCLWN Annual Conference 2023
If you have any questions or would like to get in touch about the event, please contact Lauren Blair.