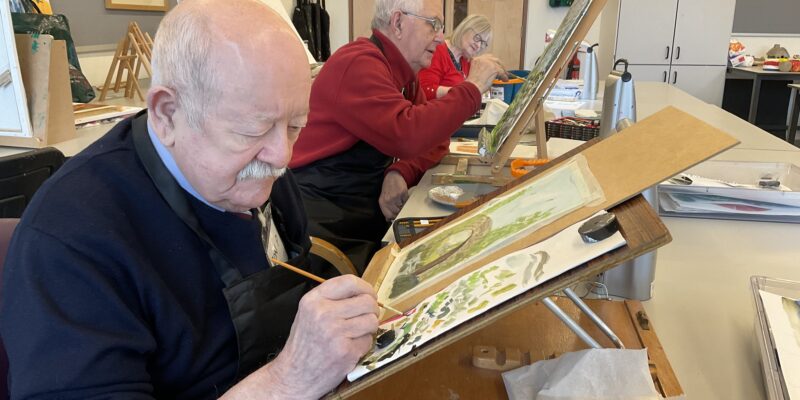 Unfortunately, having a visual impairment can sometimes be lonely and quite isolating; many people can lose their confidence, self-esteem and their ability to do many day-to-day activities. This is why activity hubs, like Sight Scotland Veterans' Hawkhead Centre in Paisley, are just so important, as they enable blind or partially sighted veterans to reconnect with passions and learn new skills. This can have a huge positive impact on a person's mental health, increasing confidence and self-worth.
In our art room at The Hawkhead Centre, we have a thriving community of veterans who create and share their artwork within a space that is designed to promote comradeship, focus and reduce stress. As a tutor, I believe there are three pillars that uphold a positive creative practice; Environment, Community and Tuition.
A WELCOMING ENVIRONMENT
It's no secret that our environment has a great impact on how we feel.  It's a proven fact that when in a more pleasant environment, people find it easier to come out of their shells and interact with one another. In the past, I have attended many art classes that have oddly been the antithesis of this; dirty rooms, loud music, broken materials and poor lighting.  It was these poor experiences that helped me to find my place at Sight Scotland Veterans and the Hawkhead Centre who shared the same environmental values as myself.
As the Hawkhead Centre is such a beautiful building, our art room represents the height of homeliness.  Bathed in a warm glow from the floor to ceiling windows and bright overhead lights, the space evokes a sense of warmth and well-being.  The natural wood accents echo the trees outside the windows while the smell of tea, coffee and soup from the adjacent hub suffuse the air.  The key message we want to give to our veterans is "you are wanted and valued here".
A CONGENIAL COMMUNITY
We as a nation are becoming more lonely.  To paraphrase author Johann Hari in his startling book Lost Connections, "in a world that has never been more connected, we are all ironically becoming more lonely". 
 This is particularly true of those of us with severe sight loss. Socialising becomes much harder after experiencing loss of vision. I know from my own experience that it is very difficult to initiate or chime into conversations. Many people with sight loss experience a lack of social confidence and a feeling of alienation.  For those that do feel unable to engage in big group discussions, our art room is a haven in which everyone has something in common, offering leading questions such as "what was your idea behind your work?" or "what kind of paint are you using there?"  I find that people chat while working, so eyes are fixed on the work, removing the need to maintain eye contact and read hand gestures.
We have a wide variety of experience levels among our art groups and I am often delighted to see more accomplished artists jump to the aid of our newer attendees.  I am glad to see them find common ground through their creative process or bond over common experiences with a shared eye condition.
TAILORED TUITION
I believe that anyone can draw, paint and sculpt and should give it a try if they feel inclined.  Art after all can make us better communicators.  The key to success is persistence, resilience and self care when your process hits a bump in the road.
As an in house tutor, it's my job to personalise artists' tuition to suit their individual needs by listening and responding to their aspirations, inspirations and accessibility requirements. As a visually impaired artist myself, I know how it feels to get tired or frustrated when my sight loss gets in the way of a project.  That's why I know lots of neat little life hacks that help streamline our artists' workflow from quality task lighting and easy-read coloured casings for our paint tubes to raised work stations to non-slip mats for water pots and paint brushes.
Did you know that contrary to common beliefs, complex details do very little for a drawing or painting?  The truth is that getting the big shapes are what make for a good picture. So those of us with sight loss need not worry about closely studying our subjects. Making art is lauded as being a very therapeutic activity and indeed it can be once you've put in some practice, acclimated yourself with your chosen materials and understood the steps that go into completing a project. Making art in a group setting can feel a lot like starting out at the gym.  It takes bravery to start, to accept our initial vulnerability and nourish the hope that the environment is welcoming while our peers and tutors will be respectful of our current level.
I often say to our newer artists, "making art is like climbing a snowy mountain so we can enjoy skiing down the other side.  You have a goal in mind but must endure a tricky climb to reach the summit.   You'll have to carry out the initial messy stages of a work but we're here to help you find the best path so that next trip, you'll know your own way forward".
OUR DOOR IS OPEN
At Hawkhead, we strive to ensure everyone is appreciated and supported regardless of where they are in their creative, or sight loss, journey.
If you are a veteran with vision impairment please get in touch via our helpline, or if you already attend one of our centers, either the Hawkhead Centre or the Linburn Centre in West Lothian, and would like to start or resume your own artistic journey with us, please do get in touch.
I can guarantee you'll find a warm welcome here in the art room whatever your goals or level of experience.
Michael McAllister is the Volunteer Art Tutor at The Hawkhead Centre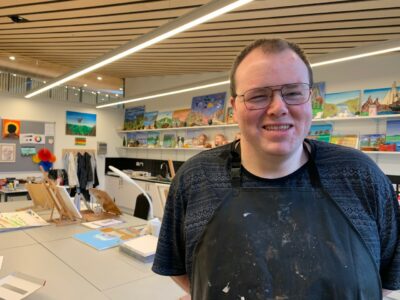 Michael, who has a visual impairment himself, is a volunteer art tutor at the Hawkhead Centre in Paisley – an activity hub for veterans with sight loss. He started in the role in June 2018 and now supports veterans in its art space three days a week.
For more information please visit sightscotlandveterans.org.uk or call 0800 035 6409.