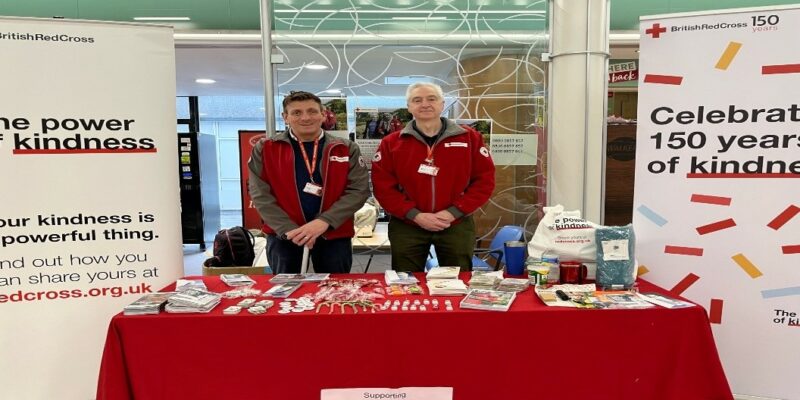 The British Red Cross has a long and proud history of working in partnership with the NHS, Social Care and other charitable organisations to help support people both in time of crisis and longer-term health and social issues.
Day in and day out, Red Cross frontline staff and volunteers support patients and provide ambulance support transport to help people get home from hospital whether they were an inpatient or an emergency attender. When the person is back home the Red Cross staff carry out home assessments and support older and vulnerable people to live independently at home.
When patients are first taken home by the Red Cross ambulance crew a range of support tasks are carried out to ensure service users are resettled quickly and comfortably back into their own home. These can include: –
Ensuring that there is enough food and water in the house
Picking up basic food items and other urgent shopping
Ensuring that the service user has a warm drink and a meal if needed
Ensuring that their house is safe
Contacting friends or relatives to let them know that the service user is home
Contacting care providers to let them know the service user is home
A Red Cross worker will then contact the service user within a few days of getting home to assess their needs, with the full engagement of the Service User, and help them decide what goals they want to achieve.
The support offered includes: –
Help with everyday tasks (for example, picking up prescriptions and shopping)
Companionship/Befriending
Rebuilding confidence
Help arranging for a benefits review
Help arranging a Social Care or Occupational Therapy assessment for increased support and/or home adaptations.
Short-term use of a wheelchair and toilet aids.
Door-to-door volunteer transport to hospital for essential health-care journeys for a limited period of time until a permanent arrangement can be made.
Our volunteers receive full training to support Service Users in co-producing their goals and then meeting them.
Connecting With You
The British Red Cross Connecting With You service is available to people 18+ in Scotland experiencing issues associated with loneliness and social isolation.
Whether individuals are feeling lonely and don't know where to turn for a friendly chat or are socially isolated and struggling to cope with the demands of life, the British Red Cross can help.
Longer term, Connecting With You work with people to build up their confidence to live independently and achieve their goals. In some areas, our volunteers can visit every week for up to 12 weeks, to make sure the person's recovery goes smoothly.  We'll also provide practical and emotional support and transport you to non-emergency medical appointments.
Connecting people back into their community
At the British Red Cross we're here to support thousands of adults of all ages who feel they have nowhere to turn.
During an initial period of up to three months, we aim to help each person to feel better connected and able to enjoy the benefits of being more involved in their local area.
Our volunteers and staff are skilled and dedicated. They can draw on decades of British Red Cross experience in helping people to live independently and confidently in their communities.
Support will depend on the individuals' needs and what is available in their area. It could include things like:
Weekly phone calls to check in with the person
Online support
In-person meetings, if the person is comfortable with these
Support getting into new or old hobbies and interests by carrying out a search in the local area for suitable social activities.
Help meeting new people, or getting back in touch with people you already know
For each person, our support looks a little bit different we could help them to rediscover their interests
At an introductory chat with one of our local team members, together we'll explore the person's unique interests and what they want to achieve. We'll then identify ways they can start to do the things they want to do – or maybe something similar, but new. Whatever happens the person has to feel comfortable about getting back into the community and progress is at a pace that suits the individual.
Rebuilding independence
Over the next couple of months, there is a regular meet up to chat about how the person is feeling and give them the support they need to be able to achieve their goals.
Setting a goal is a vital part of the person's recovery. It might be reconnecting with family or friends, exercising more or visiting a place that means something to them. Our volunteers are trained in setting goals and will help individuals build confidence over time.
Emotional support
It can be lonely and disorientating after being in hospital, but we're here to help service users find a route back into social activities and friendships in their local area.
Find new friends
By joining in with local activities that match the person's interests, the person will meet people who like doing the same things. Developing the individual's confidence and sense of independence.
Murdoch Wilson is a British Red Cross Community Connecting volunteer