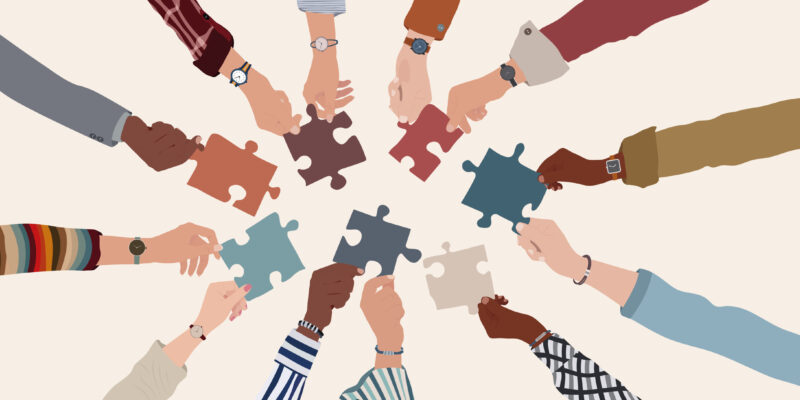 The last few weeks have been extremely busy here at Voluntary Health Scotland (VHS) as we get ready for the Scottish Community Link Worker Network's (SCLWN) first ever Annual Conference on the 24th May 2023. We want to ensure that everyone has a really enjoyable and productive day and we hope that the event will be a great experience for all the link workers attending.
For those who don't know about SCLWN, I thought I would give a short introduction to the Network. The Network began in 2021 with the aim of being a network and community of practice for Scottish Community Link Workers to meet, share experiences and learn from each other. A lot has happened in two years and the Network is still developing.  We now have an extensive contact list of community link workers and programme leads from across Scotland and everything we do is guided by both an advisory group and a working group. My colleague Lauren and I work together on the Network's programme of online events which have engaged with over 480 attendees to date. The Annual Conference is just one part of the Network's events programme, but it is especially important as it will be the first time that many of our link workers will be meeting each other in person.  We are very excited about the day as we've got link workers coming from all over Scotland – hence the pressure to make the day one to remember!
As many of you will be aware, there are great variations in the way community link worker programmes operate across Scotland. The Network initiated a research project to look at the programme landscape across Scotland.  Over the last few months my colleague Findlay Smith has been working with link workers and programme leads to explore those differences and commonalities.  We hope to publish the final report of Findlay's research in June 2023. The interim findings can be read here and give a great insight into the inner workings of this complex and challenging yet vital role.
As a Network we want to work with link workers and always strive to have them at the heart of what we do. We are open and keen to engage with CLWs from all over Scotland. If you would like to keep up with what is going on with the Network, you can always sign up for our monthly newsletter – just get in touch with me( Roisin.hurst@vhscotland.org.uk ) if you would like to receive this.  We always welcome conversations with anyone who is new to the community link worker role or who has suggestions for us about future events or activities. Please get in touch, we are always happy for a catch up over a Zoom call or a meet up in person.
Roisin Hurst is the Network Development Co-ordinator for the Scottish Community Link Worker Network