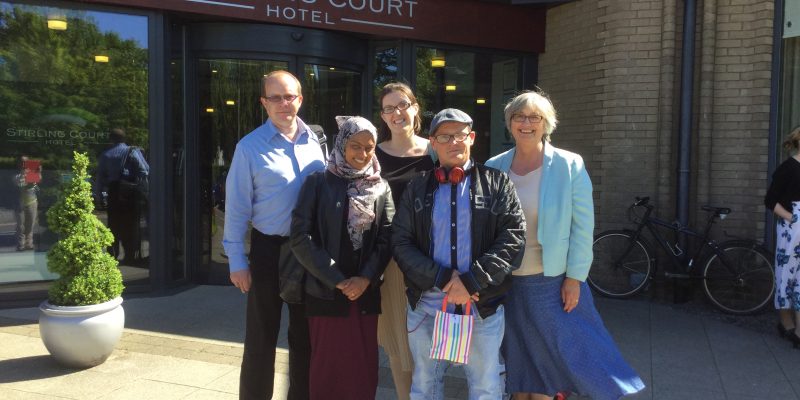 Inequality is a moral issue, Martyn Evans, Chief Executive at the Carnegie UK Trust, told those assembled at VHS's and Open University's joint Understanding the Gap conference in Stirling on 1st June 2016.
The conference set out to explore what the latest research tells us about health inequalities, including the causes, the lived reality and some potential solutions.
This exploration led to some hard truths.
"I think when we are looking at health inequalities, when we are looking at the nature of ill-health, morbidity and fatality in a Scottish context we have to understand that it doesn't happen by accident. It is part and parcel of a wider structuring of society," Dr Gerry Mooney, Senior Lecturer, The Open University explained.
This, he said, means that health inequalities are not inevitable. But does it also follow then that we, as a society, have chosen to live with them?
"It [inequality] is not natural. It is not an outcome that we can't do anything about. But in order to do something seriously about it, we need to tackle some of the key policies, relationships and drivers of inequality within the UK, and that means we have to look at the human costs of inequality."
We know the statistics are stark. One in five children in Scotland live in poverty. The number of working age adults in poverty is increasing and there is considerable evidence pointing to a deepening and widening of inequality. Last year, Oxfam Scotland estimated that Scotland's four richest families are wealthier than the poorest 20 per cent of the population. That is all important data to have gathered. But it alone isn't enough to inform effective policy. Behind those figures are real children. Real people. And we, and the politicians we elected, need to get to know them if we are to better understand their needs and insist that these are met.
Here, Voluntary Health Scotland has stated its intent to play its part by giving a platform and seeking greater involvement with peer research to ensure that the voices of lived experience are heard.
Presenting at the conference were Duncan Easten from the Glasgow Homelessness Network and Jaan Abdulkadir from the Mental Health Foundation who have been taking part in the University of Strathclyde's Centre for Health Policy's peer research on the right to health.
"I didn't even realise that I had a right to health until I had suspected bird flu. I didn't know I had a right to a doctor. I don't know why. I just had never even thought about it," said Duncan, who started off contributing to focus groups before moving on to conducting one-to-one interviews.
"I came out of my first one-to-one interview just buzzing because people were a bit more open to you because it was one-to-one, where in big groups they might have felt a bit more vulnerable. The reason I mentioned to them that I am a recovering alcoholic is because a lot of them have addictions of their own, or previously had and are recovering, and they were a bit more open to me because I had been there and done that. The way I put it is that I've got a few t-shirts in the cupboard, I just choose not to wear them today…It was great. It gave me a wee bit of self-esteem and self-confidence and I learned a lot off these people as well about their complex issues."
Like him, many did not understand their rights and found themselves stigmatised.
"A lot of the people I spoke to were being pigeon-holed. If they were a drug addict or an alcoholic they were automatically assumed to be a criminal. We were told, 'This is what we will do for you.' It wasn't a person-centred approach. It was, 'You've got this addiction, you go here. You are an alcoholic, you go there. You are homeless, you go there.'
"They are told: 'you make this appointment at this time of day. 'You are homeless, you've got nothing better to do with your time. You are unemployed.' They don't take into account that this person has to spend half their day finding somewhere to stay that night…The services should be more accommodating and not just assume that people have nothing better to do with their day."
Likewise, Jaan said she got involved in the peer research project as she wanted to use her experiences to help other women who were seeking asylum and refuge. She observed some important similarities between the vulnerable groups taking part in the research.
"For me, even though the two groups, the asylum seekers and refugees and the homeless people all had different situations, our struggles are the same. I think what both groups were looking for is peace and belonging, which is something that you don't have to be an asylum seeker or homeless to want. I'm sure all of us in this room want to have peace in our lives and want to feel like we belong."
If we want to belong to a fair society where everyone can realise their full potential then we must work together.
"Gathering research is excellent but it is what we do with it next," said Cassy Rutherford of The Robertson Trust. "I think one of the things coming through is that collaboration is key to that – across sectors and across organisations – working with different themes to set the questions, gather the data and then to share it and think about the next practical steps, together."
View Twitter Storify from this conference here.
Katie Macintosh is a freelance writer and communications specialist with an interest in health issues.