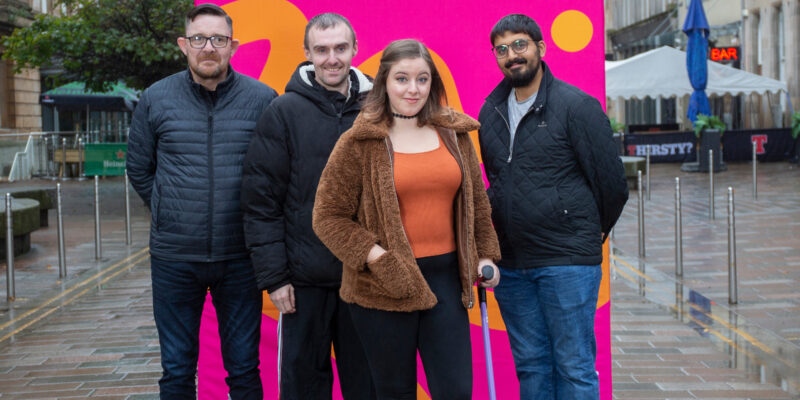 The last 18 months have had a huge impact on communities across Scotland. While we as a nation are only just beginning to understand the lasting impact of the COVID-19 pandemic, one thing we can see already is that the mental health of the nation has taken a real hit. Now, more than ever, it's important that we get talking about mental health, and standing up to stigma and discrimination when we see it, to make sure that people get support and understanding when they need it.
This month (October 2021) we at See Me launched a new campaign – See Us. We're calling on everyone in Scotland to get behind the movement to end mental health stigma and discrimination to make real change for those who need it. It's time to stop Seeing Me, the person struggling, and for everyone to stand up and say, 'See Us, we're making a difference together.'
A survey of over 2,000 Scots, including 1,000 who have experienced mental health problems, found that more than half (58%) say that their own perceptions of people with mental health problems have improved in the last 10 years. And while that's great progress, we know we still have work to do. We also found that 15% of people had faced stigma in GPs' practices, and 1 in 10 in NHS services.
Tackling mental health stigma and discrimination is key to ensuring people can get the right help and support when they struggle with their mental health. Compassionate, person centred care is vital to ensure that people get the right support, and aren't judged, dismissed or labelled because of their diagnosis.
The See Us campaign encourages people across Scotland – whether they have experience of a mental health problem or not – to join the movement to end stigma, by educating themselves, getting involved in events and activities, and speaking up to challenge outdated stereotypes.
Voluntary health organisations play a crucial role in helping people to get the support they need – and we've got lots of resources online in the new See Us home page designed for health and social care professionals, including our newly-launched health and social care toolkit. You can find all of this, and more, at  See Me See Us  where you can also sign up to show your support for the movement. On the site, you'll also find our See Us activity pack, which is packed with ways in which to engage with colleagues and patients and get the conversation started on mental health stigma and discrimination.
Stigma and fear of discrimination prevent people from reaching out for the help they need – and, for some, it can be the difference between life and death. Mental health affects people from all walks of life, so I'm asking you to do your bit and take action. Whether you're offering a listening ear for someone who needs it, sharing your own experiences of mental health to help break down barriers, or organising an event using our activity pack, everything we do matters – and it all helps us get closer to ending mental health stigma and discrimination in Scotland.
Wendy Halliday is the Director of See Me, Scotland's programme to end mental health stigma and discrimination. Find out more about See Us and how you can get involved at  See Me See Us  and join in the conversation on social media using #SeeMeSeeUs to help others to find out about the movement.