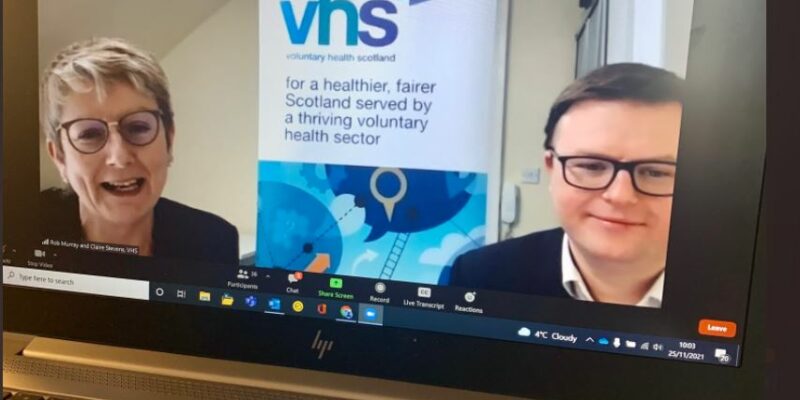 VHS welcomed members and guests to our 17th AGM and Annual Lecture on the 25th November 2021.
The meeting chaired by VHS Chair Rob Murray, Chief Executive of Cancer Support Scotland and Claire Stevens Chief Executive of Voluntary Health Scotland.
We are delighted that we have the following trustees for the next year:
Rob Murray
Nicola Sinclair
Ian Bruce
Wilma Paterson
Maureen O'Neill
Gemma Crompton
Lucy Mulvagh
Christine Carlin
David Main
Jonathan Sstentamu
Paul Mooney
All our AGM papers can be viewed here.
After the AGM, our annual Lecture began which set to explore the impact of Covid-19 on realtionships and priorities for Recovery for Communities from Covid-19. We welcomed:
Professor Kirstin Mitchell, Professor of Social Science and Public Health, MRC/CSO Social & Public Health Sciences Unit, University of Glasgow
Ben Cavanagh and Andrew Connal, Social Researchers, Covid-19 Modelling and Analysis Hub, Scottish Government
You can view the presentations here:
Kirstin Mitchell University of Glasgow, 25 November VHS
Andrew Connal, Ben Cavanagh, Scottish Government PP 25 November 2021