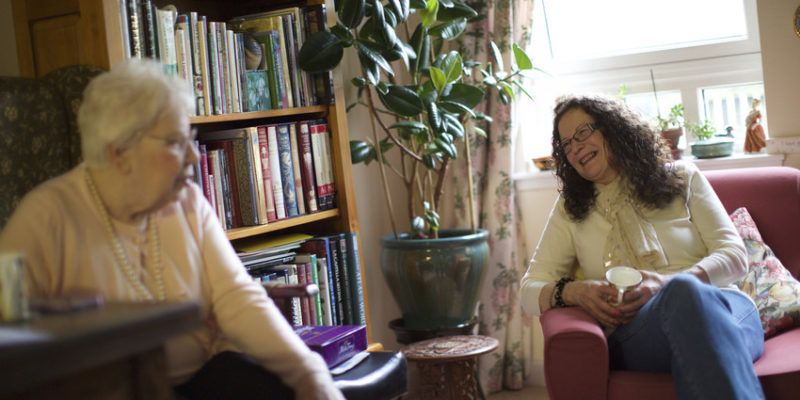 Volunteers are invaluable. This week is Volunteers Week so it's a fantastic time to say thank you to the amazing contribution volunteers make.
Many third sector organisations rely on volunteers to deliver their vital work. The Scottish Household Survey 2017 showed that 28% of adults volunteered formally through an organisation or group that year. Volunteer Scotland estimates that over 1.26 million people in Scotland, provide 157 million hours of help and contribute £2.26 billion to the local economy. This only includes what is classed as formal volunteering, so the true contribution could be much more.
Like many third sector organisations, there are many ways to volunteer with Marie Curie. We currently have around 2,500 people volunteering for us in Scotland in some form. We're incredibly grateful for each and every one of our volunteers who give up their time to make a difference to Marie Curie and the people living with terminal illness.
If someone has lived experience of end-of-life care as a carer, family member or friend, they can join our Voices group that help us improve our services and develop new ideas. People can help support our services by donating their personal or professional skills as Helper volunteers visiting terminally ill people in their homes, or Companion volunteers in hospital, offering companionship and support; as complementary therapists; or as part of our Advisory Boards.
There are many opportunities to volunteer with us through community fundraising, our community shops and at our hospices – anything from gardening to helping at our day therapies. There are opportunities to support our administrative and project work, as well as acting as an ambassador for Marie Curie services. Like many other organisations, we have a strong training and support network for volunteers.
The benefits of volunteering have been well chronicled, correlating with improved mental & physical health of volunteers and helping to reduce social isolation and loneliness of both volunteers and recipients of services alike. Marie Curie Companions, currently only based in Somerset, are often supporting people who are dying in hospital, who may have no other forms of support or interaction with people who aren't service providers.
However, questions remain over whether volunteering roles are meeting people's needs, whether everyone is benefitting, and if we're harnessing the power of volunteering strategically enough to sustain it for the future.
At the recent Voluntary Health Scotland conference, Valuing and Sustaining Volunteering in Health, Mathew Linning, Strategic Performance Manager with Volunteer Scotland highlighted that inequalities exist within volunteering. The volunteering demographic is more likely to be women from higher socio-economic and income groups, from rural areas and from less deprived areas. If this is the case, that means that the majority of people participating and benefitting from volunteering may already have good health and wellbeing. Meanwhile those not participating and benefitting are perhaps the most disadvantaged people with less good health and wellbeing. Does this mean that volunteering practices and processes could be inadvertently widening health inequalities?
Our work exploring what palliative care could look like in the future shows touches on volunteering. There is a growing shortage of volunteers and our ageing population demographic means that the age of volunteers is increasing. There are also still entrenched views around volunteers and what they can do, which can limit their potential.
There is currently a lack of data on volunteering. There's usually basic quantitative data, such as the numbers of volunteers. However, better data collection and much more scrutiny is needed, especially around where volunteers come from and where there are gaps. This could enable targeted work to promote volunteering to those that aren't currently engaging, participating or benefitting. There also needs to be more research into qualitative aspects, such as outcomes and impacts for volunteers.
To make the best use of volunteering there needs to be a more strategic approach. Volunteering is an incredible resource that can support both health and social care, and communities. With its massive contribution in donated hours and the subsequent impact on the economy, it's clear that services would not be able to function without the support of volunteers. However, it is not clear if it is always being used in the right way.
There is a real opportunity to both preserve and sustain volunteering for the future and contribute to tackling health inequalities in Scotland. For this to work though, organisations in all sectors need to take a more strategic view and invest more in volunteering. This needs to involve greater engagement with communities with a partnership and co-creation approach in the long term to ensure that support and volunteering models meet the needs of communities.
Susan Brown is the policy and public affairs manager for Marie Curie in Scotland.