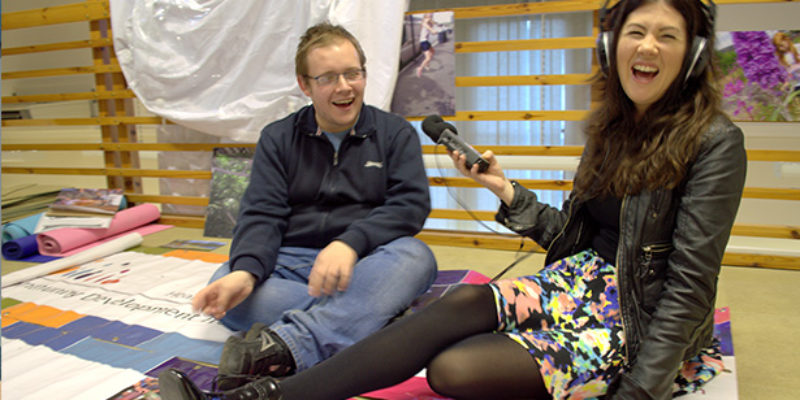 This month, Jenny Lester, Communications and Marketing Assistant at VHS, met with Rebecca Haack, the Operations Director, and Healthy n Happy. The community development trust work towards healthy and happy living in Cambuslang and Rutherglen by providing opportunities for people to actively improve their lives and the places where they live, work and play.
They use an asset based approach to facilitate health generation, neighbourhood place based work, capacity building, and community development.
All of the work at Healthy n Happy has an emphasis on working toward the priorities of the people they work with. They are led by and for the community they are situated in. Their work focuses on strengths, goals, and priorities of local residents, volunteers and communities as a means of addressing ill health and health inequality.
It's interesting to hear about their rapid expansion; their team has doubled in size over the past 15 years, and they currently have around 250 volunteers every year. Together, the sheer amount of projects they deliver is impressive.
Their latest large scale project is the purchase and renovation of the church hall next door to their office. It is in its final phase of refurbishment and will be relaunched next year as a community hub, Number 18.
Some of their other projects include:
Parent Cafes
Healthy n Happy facilitates a relaxed and friendly environment for parents and carers of babies to 5 year olds so they can support each other with practical help and enjoy a cup of tea and snacks.
Bike Town
Bike town is a local not for profit cycling initiative and social enterprise. It does not just sell bikes or repair bikes. It is a project centred on confidence building and access. It teaches people who to ride bikes, how to fix bikes, and run sociable bike rides to help locals meet new people and get active – all of which are excellent for mental and physical health.
Camglen Radio
Healthy n Happy's community run community radio station has 85 volunteers – 25% have additional support needs. The station is 100% community led, with training and support given by other volunteers in a peer-to-peer learning programme. It is 24/7 on 107.9, and anyone can pitch an idea for a show. There is a school radio programme, and an LGBT+ program to encourage young people and underrepresented groups to find their voice.
Transforming Lives
The Transforming Lives team supports people through one to one sessions where goals are discussed and achieved through a plan of different activities and learning opportunities.  The team deliver a broad and varied range of programmes through four thematic hubs.  The Eastcroft Hub welcomes older isolated people; the Handy Folk Hub focuses on craft based activities; Number 18 delivers a range of group work activities and events that involve mental health awareness, training and the arts including CHANGES courses and Scotland's Mental Health First Aid; and there are many hands on outreach and outdoor activities for people in their local neighbourhoods.
Transforming Communities
The Transforming Communities team works closely with local residents so they are actively involved, taking a lead and using their influence in improving community life in five local neighbourhoods: Whitlawburn & Springhall, Burnhill, Halfway and The Caledonian Circuit.  The team helps to connect people so they can collaborate, plan and secure resources that deliver local priorities.
In recent challenging financial times, Healthy n Happy have been evolving to maintain sustainability. Although it is difficult to achieve long term change with short term funding, Healthy n Happy is still delivering excellent work in their local area. To find out more about Healthy n Happy follow the link to their website here.
If you would like your organisation to be featured in our spotlight on a member in the future, please contact Jenny Lester