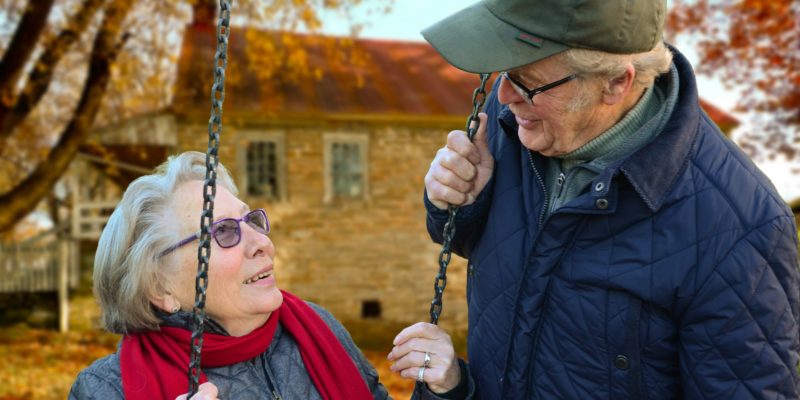 We are all ageing.  With 8% of our population over 75 years old, it is unsurprising that on a daily basis in the media there are stories about the increase in the number of older people and the concerns about by whom, how and with what resources they will be cared for. Longevity brings the need for celebration but it is also accompanied with diminishments – physical, social, psychological and economical.   We focus on the importance of person-centred care but perhaps also make assumptions about the needs of older people which ignore how they 'feel' giving a primary focus on physical rather than mental or spiritual well-being.
Change in older age can encompass many losses.  We are expected to retire from our sixties which carries with it a perceived loss of status, a change in routine, companionship and income.  Without developed involvement in activities and being with friends and family this can have a profound effect and tend towards loneliness.
Physical changes can mean withdrawal from activities once enjoyed.  Changed financial circumstances also impact on an individual's real or perceived ability to participate fully in social opportunities with the consequence of withdrawal leading to social isolation.
Death of partners, family members and friends which leave a gap in having someone close to confide in.  Perhaps we take this for granted at other points in our life and even knowing how pragmatic many older people are in relation to acknowledging death, recurring bereavements take their toll.
Depression in older age is often under diagnosed and under-treated. Older people themselves tend not to focus on this aspect of well-being but on physical changes and individuals may well have experienced mental health problems at an earlier stage.
A change from being in your own home to being a resident in a care home or a patient in a long stay unit is a profound alteration from being responsible for your own house, what you do and being clear as to who you are.  Although less socially isolated there can be a deep sense of loneliness as you are suddenly with a group of people you might never have met before and however well cared for it will never replace 'home'.
Perhaps all of the above is self-evident but if so we haven't really got to grips with recognising and putting in measures which will support older people in these different circumstances.
We must not accept that there is an inevitability that one should 'feel sad or depressed' because of growing older.  We recognise the importance of doing this with younger people with encouragement of 'see me'. We need to equally apply to older people so that we see the individual who has lived a life of contribution in many different ways. We need to understand the mental well-being aspects of ageing better and to consider the impact of the changes which occur in later life and how people have developed their coping strategies.
Currently, there are different policy strands in play which are to be welcomed but the proof is in the pudding. The Scottish Government Mental Health in Scotland – a 10 Year Vision (2016) gives a welcome focus on prevention. Couched in human rights, the aim of the strategy is to improve access to support for mental health by older people. It is vital that older people feel enabled to ask for help.  The current older generation are sometimes reluctant to voice their feelings. This strategy is considerably underpinned by the role of community groups and faith communities which provide a haven for individuals and encourage participation which alleviates loneliness and provides a sense of meaning and purpose to life.
The Community Chaplaincy Listening Service which is embedded in a number of GP services provides an opportunity to 'talk and be listened to'.  It is not a counselling service but the ability to just talk without upsetting family and friends by seemingly 'going on about sadness' is a comfort.  There are similar services and people need to be aware of them as they play an important role in preventing a situation from escalating.
The New National Health and Social Care Standards are based on human rights and from the perspective of the person who receives the care wherever in our systems.  In this context, the focus on 'What Matters to Me' is critical.  People need to be understood as who they are, and in terms of their unique history and what gives them meaning throughout life and what has enabled them to build coping strategies.  Perhaps being in the fresh air every day is essential, being read to, being creative and keeping my faith connections as appropriate.  This cannot happen in a vacuum and we each need to build our history with our families and friends wherever possible so that we can inform people properly and not feel let down if in a crisis we are not able to express our needs.
Underlying a loss of mental well-being is both a feeling and the actuality of loneliness and social isolation.  Not being able to talk to someone on a frequent basis is very hard; not being able to physically get about and be dependent on someone to bring food and do things means a loss of reciprocity which is essential for all of us.  No longer feeling that you have a place in the community and that your time has passed is very disempowering.  Solving this issue is not easy.  It has been prevalent for many years with different dimensions as society evolves.  We can begin to tackle it by being better neighbours; by encouraging people to cross their doorsteps and wherever possible ensure that we do not drop our connections as life changes but with help maintain them.  Emphasising meaningful activity that is appropriate to the individual, examples of which can be seen in many voluntary sector organisations.   The development of a Scottish Government strategy to combat social isolation is a critical plank in developing an inclusive Scotland.  However, strategy alone will not make a difference it is up to us to ensure that there is practical action as individuals and as communities.
Mental well-being is important wherever we are in the life course.  We face different issues at different times.  We must not accept that a loss of mental well-being in old age is inevitable.  We have to bring the different strands together to ensure that we do everything we can on a collaborative and mutual basis to achieve the visionary outcomes in the Scottish Government Mental Health Strategy.
Maureen O'Neill, Director – Faith in Older People
Want to know more about the Future of Mental Health? Find out about our Conference – Tomorrow's World Today: New Frontiers in Mental Health
Want to write a blog about mental health? Get in touch with Jenny Lester