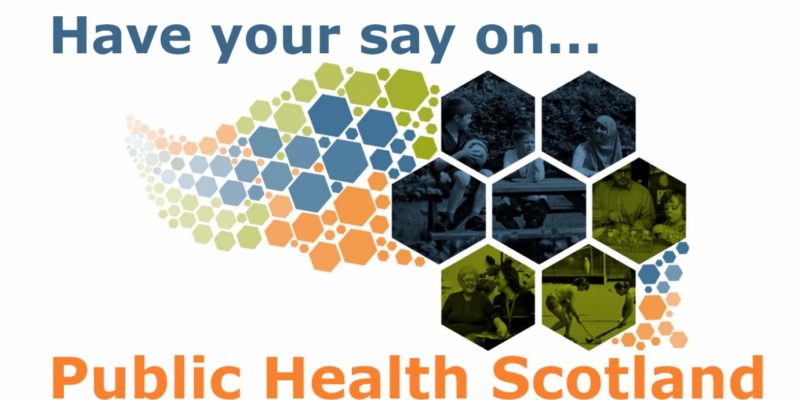 VHS encourages our members (and indeed any third sector organisation) to respond to the Public Health Scotland Consultation .  The Scottish Government and COSLA want to hear your views on plans for the new agency and the necessary legislative changes needed to establish it. This is a short consultation, the deadline to respond is Monday 8th July.
To help third sector organisations engage with the consultation, VHS is organising a "Sounding Board" for its members on Monday 17th June in Edinburgh. Scottish Government officials from the public health reform team will join us to explain and discuss the  consultation with us. See our Events pages for further details.
More about Public Health Scotland and the consultation
Public Health Scotland will be Scotland's lead national agency for improving and protecting health and wellbeing. The new agency is a key plank in the public health reform programme, and will launch on 1st April 2020.
Public Health Scotland's role is to support and enable the "wider public health system", and that is why this is an important development for those of us working/ volunteering in the third sector and communities. Its success will be judged not just in terms of how well people's health improves, but also in how it works collaboratively with partners, communities and the "wider system".
Public health reform is a partnership led by Scottish Government and the Convention of Scottish Local Authorities (COSLA) with the active involvement of a number of third sector organisations, including VHS and CHEX .  Scotland's public health priorities  were published in the summer of 2018,  the first milestone in the reform journey.
Public Health Scotland will:
Provide strong public health leadership. It will be Scotland's lead national agency for improving and protecting health and wellbeing
Support the wider public health system providing high quality national expertise across the health improvement, health protection and health care public health functions. The body will also provide national leadership in relation to research, innovation and the development of the public health workforce.
Working in a collaborative way across the whole system, provide support and capacity to help others to take action together
Have a clear focus on supporting local partnerships and communities through the innovative use of intelligence, data and evidence
Provide independent advice and support to national and local government, local authorities the NHS and the wider public health system.
The consultation focuses on a number of areas including:
Governance and accountability
Outcomes and performance
Functions and structure
Future relationships with the wider public health system.
The Public Health Scotland Consultation is open until Monday 8 July 2019.
Follow public health reform on Twitter: @phrscot