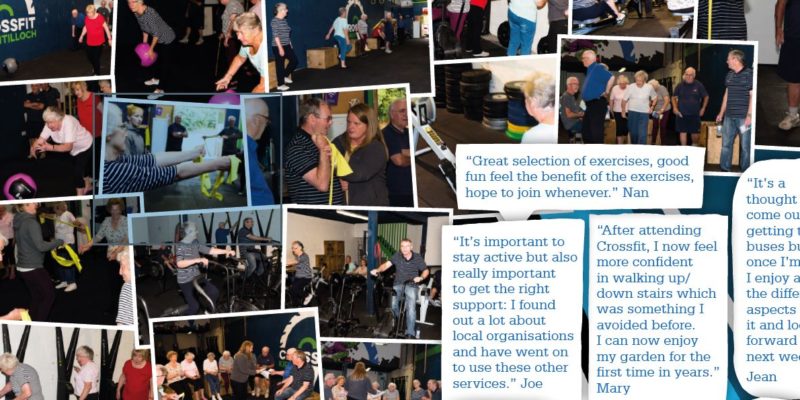 Ceartas  is a charity providing an advocacy service for people in East Dunbartonshire irrespective of their cultural background, gender, beliefs or sexuality. OPAL is a free information and advice service for all adults (16+) in East Dunbartonshire. CrossFit was an eight week programme to introduce people in East Dunbartonshire to the benefits of exercise at a venue within their local community. It was also an opportunity for people to get information, learn about advocacy, and an introduction to local services. After a successful pilot in July 2019, the course was extended and developed for people who may have been unfamiliar with gym work but were keen to give it a go. Each session lasted 30 minutes with an additional 15 minutes at the end for local services to come and chat. The group welcomed speakers from Ceartas, OPAL, Carers Link, East Dunbartonshire Voluntary Action, East Dunbartonshire Council, Citizen's Advice Bureau, and Enable. This resulted in a number of information enquiries, referrals to advocacy and other health services that participants hadn't accessed before.
Crossfit wasn't just another exercise class. The workout itself combines circuit training, gymnastics, cardiovascular training even aspects of Olympic weightlifting to provide a holistic comprehensive exercise class. In addition to learning these new physical skills and improving fitness, those who participated became part of a community of individuals with similar needs but very different strengths and abilities. By working together, the group promoted positive growth in both mental and personal wellbeing including areas such as social skills, working as a team and the ability to overcome adversity.
An example session from the over 65s group:
Welcome, meet & greet (social aspect and initial chat)
Warm up – small team races, introducing certain movements whilst walking, using all muscle groups
Introduction
Sit to Stand (using chairs or other equipment lying around, if no equipment use wall)
The purpose is to educate about being functionally fit, explain the importance of keeping leg muscles strong for everyday movements while adapting the options to suit individual needs.
10 minute as many rounds as possible (AMRAP) of:
10 sit to stands
8 shuttles
6 body weight shoulder to overhead movement

Information sharing (guest speakers and short presentation from local service)
Evaluation (feedback and evaluation of session based on activities and guest organisation).
This approach of coupling a new and inclusive physical activity like Crossfit, where you progress at your own pace with encouragement of your peers, with information sharing and guest speakers, was very beneficial for the three community care groups we ran tailored programmes for, including older people, senior pupils at local Additional Support Needs schools, and those in recovery from addiction. The special thing about Crossfit was it allowed people of very mixed abilities to do the same movements with some very minimal adaptations, but always at their own pace and intensity. The exercise itself focused on functional movement: the type of movements that help you get up off the couch or lift your shopping in from the car. Training as part of this community provides a support structure which allows the participants to grow and achieve things which may not be possible on their own.
Upon completion, the project has since continued on independent of support from both OPAL and Ceartas, which is testament to the commitment of those participants in taking control of their own Right to Health.
Blog Author: Ronnie Whiteside, Marketing and Fundraising at Ceartas Advocacy 
Crossfit is a finalist in the VHS Annual Conference 2019  Poster Competition. View the poster here.