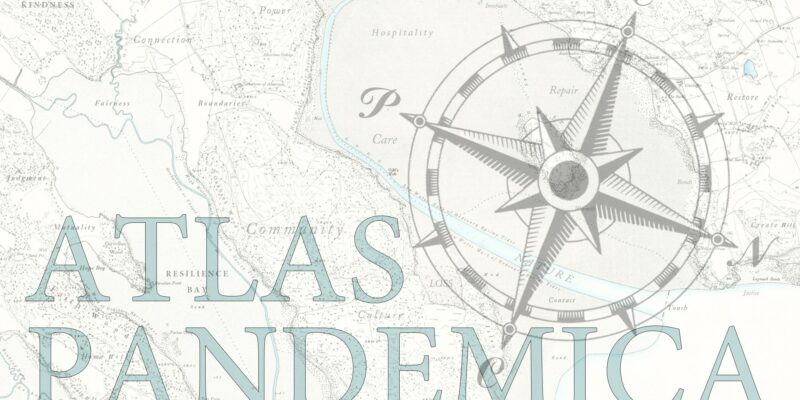 "The change that matters most is not down the road, at the end of a chain reaction – it is present immediately, instantly, when people demonstrate resourcefulness, altruism, improvisational ability and kindness."     Rebecca Solnit
Atlas Pandemica is a project that is designed to encourage innovative approaches in charting the changes that have happened around us recently.  To try and navigate the way forward into a more hopeful and shared future and provide counter narratives to the forces that will pull us back to a normal that was not really working for a lot of people.
Dumfries and Galloway has a vibrant creative culture and the project seeks to use this to explore and respond to the informal community networks of care that have recently grown up in the gaps between the more traditional institutions in our region.
The project is asking what new thinking and strategies have been used, what can we learn from them and how can we nurture and maintain them in the future?
Atlas Pandemica is a group of 10 creatively led projects that work directly with people in Dumfries and Galloway, focussing on the impacts and the learning from the community's experience of the evolving pandemic. The project is running from July 2020 into the new year.  At some point in the beginning of 2021, Atlas Pandemica will be presented as a record of individual journeys of exploration and also become a set of provocations to the future of our region.
All the artists are working on research projects, we didn't want to create a sense that the primary objective was to make an artwork by a deadline and exhibit them; we wanted the artists to be free to change and adapt their plans according to their findings.
The methods and timeframes for each project is very different and its up to Matt Baker and I to make sense of how they fit together and how the various creative outcomes might be published or presented.
The structure of the project is built around a series of artist get togethers.  Originally this was in person in some great bit of landscape but it has quickly ended up on Zoom.  We have been experimenting with ways of doing this to provide the type of support and intimacy that we wanted to create on the project and to a large extent that has worked.  There is a great sense of collaboration and support within the group and the discussions and internal echoes that are being created are beginning to become a major part of the project.
This is leading us to talk about care in a much wider and deeper way. Care is becoming part of our practice as artists, not just care for ourselves or others but using care in the processes involved in the making of work and sharing it.
Here are the artists and their research areas.  Some of them are directly looking at the effects of covid, other projects are using covid as the context of their explorations;
Mark Zygaldlo who is looking at the changing relationships between the river and the surrounding human culture
Annie Wild  is working with unpaid carers to uncover their own networks of care or lack of them and using those conversations to explore the politics of an economy based on care.
Movement artist Emma Jayne Park is exploring power and decision-making in the region.
Writer Karen Cambell is located as a writer in residence in the regional council and is interviewing council employees about their experiences
Tara Beal is using her ongoing projects with Scottish Show People to explore the impacts of Covid on their lives and how the shutting down of the traditional fairground in Dumfries affects both them and the settled community.
Jenna Mcrory is exploring hate speech – framing it as the beginning of a conversation rather than the end of one and her site of work is on Tinder
Poet JoAnne Mckay is using historical research of past pandemics in the region such as cholera and flu as a lens to study our behaviour during this one.
Katie Anderson of the Stove is curating a series of micro commissions with artists called Elsewhere that is exploring how the public space is changing and how artists can work within it and help guide the changes.
Peter Smith is creating therapeutic sculptural works based on Zen Gardens to explore care and repair in public.
Jo Hodges and myself are investigating how end of life care, dying and marking someone's passing has changed and is still changing.
Robbie Coleman is co-curating  the project called Atlas Pandemica with Matt Baker of The Stove Network in Dumfries