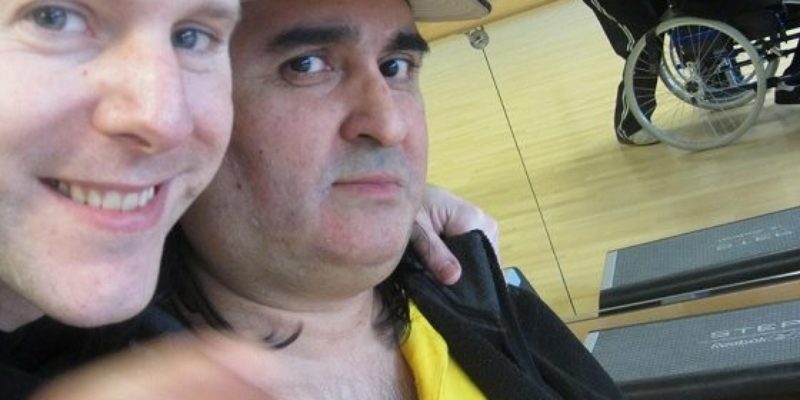 Paul Okroj of Chest, Heart and Stroke Scotland spoke at VHS's EGM on 28th February 2018, on the topic of 'universal and equal rights to rehabilitation'. Here we publish a transcript of his presentation.
Thanks for the invitation – when thinking about the approach to the presentation I knew that I would be:
Talking to an audience who knows how important the right to rehab is
We know the need for all of the services those round the table provide
We have the stories!
We have all gathered the facts the outputs the measurements!
What the NHS does is marvellous…
It's supporting the next stage – after people leave hospital – it is:
The emotional support
The well-being
The psycho social well-being journey
The support  after the event
The things that matter to that individual
The one to one need
The things that make day to day life
The "what matters to you"
It's not the extra – it's the necessity, the right
Our new  Chest Heart and Stroke Scotland  strategy  No Life Half Lived  was launched in May 2018, setting out our vision of a Scotland where people living with our conditions can live the life they want to lead. We estimate that at least one in five people are affected by one or more chest, heart or stroke conditions – and when you factor in the impact on their families the reality is many more are affected.
Our focus as a service-driven charity is on supporting people post-diagnosis or after a stroke, and we provide services across health boards and local authorities. These include stroke nurses in 6 health boards, volunteer-led support, peer support groups, our Advice Line, and online advice and information.  Our new strategy sets out our ambition to double the number of people that we reach through our support and services. Also, among the goals it highlights are that we will be led by people living with chest, heart and stroke conditions, their families, carers and friends.  We want to give them a voice in the decisions that affect them.   We will develop an approach to advocacy that is human-rights based and enables people with chest, heart and stroke conditions to campaign and influence on the issues that matter to them.  There are challenges around that.  We represent a very broad group of health conditions, and the people living with them may not necessarily self-identify as a community – as for example a disease-specific charity might represent – but are instead are many different communities, with people at all stages of life and of living with their illnesses. But we know that there many issues which are common across conditions.
Our first major step in taking that commitment forward began immediately, and during the summer 2018 we carried out a national survey of people's experience of living with chest, heart and stroke conditions.  Almost twelve-hundred people responded to questions about how their lives had changed, the support that made the most difference, and what they need more of. The result is our  One in Five  report which we launched in October, and highlights that opportunities are often being missed to help people live life to the full, with many missing out on the emotional, social and rehabilitation support that could provide them with the best possible quality of life.
Our key findings include:
People are at risk of losing their social connections and self-confidence
Sometimes they feel that once they receive a diagnosis or their treatment ends, they are left to 'get on with it'
They are more likely to experience isolation, stress and anxiety, often finding it hard to rebuild their lives at home and in their communities
They are at greater risk of experiencing poor mental health – yet the care they receive remains focused on physical symptoms
People want and need more than something more than medical treatment – they need help not just to treat their condition but to rebuild their lives. This in turn maximises the outcomes from medical treatment.
People sometimes struggle to access support services – many don't know how to find what they need, or what is available locally.
And these issues are all compounded for people who are living in our poorest communities.
In the One in Five report we made a number of recommendations for the Scottish Government, the NHS and integrated joint boards.  But the overarching recommendation is that government should commit to, and invest in, a universal and equal Right to Rehab. Rehabilitation means different things to different people.  For some health professionals, it means the treatment and formal programmes delivered by allied health professionals such as physiotherapists.  But to us, and the people we support and represent, it spans the entire journey which a person experiences after diagnosis, from NHS treatment onwards to community based support. Community support that can range from a local exercise group for people with similar conditions to a singing group. Essentially, rehab is centred around someone's particular needs and goals.  Everyone's rehabilitation journey will – and should – be different, supporting them in whatever way they need. Some people want to be able to return to work, or to look after their children.  Others might aim to get back to a hobby or sport, or simply be able to independently leave their home. So rehab isn't just about medical intervention.  Access to rehabilitation is a human right, enshrined in the Convention on the Rights of Persons with Disabilities.
Traditionally, our healthcare system is focused on treating illness, keeping people alive.  The 'what next' has been long neglected – but is being tackled through measures such as integrating health and social care, and the Chief Medical Officer's focus on Realistic Medicine, which aims to put people and what they want at the centre of their care.  Establishing a Right to Rehab would help continue to shift that focus. As an organisation, we'll be increasingly looking at how we can give people a voice on the issues that matter to them.  We want them to become campaigners with us, on local or national issues.  Essentially it's their experiences and their stories which give meaning to a Right to Rehab, and which bring it to life with decision makers.
The spectrum of areas that Rehab covers is broad, and so this is a complex issue to tackle. But there are a number of areas where action is needed across health conditions to help deliver a Right to Rehab. These include:
Being able to access specialist care and treatment when it's needed, whether that's provided by nurses or allied health professionals such as physios.
Providing access to the right psychological support, and advice and information mental wellbeing
Improving health and social care professionals' awareness of the importance of rehab – and being able to signpost and support people to attend the support needed
Partnership working that cuts across sectors
Of course, as Chair of the Scottish Volunteering Forum and Secretariat for the Cross Party Group on Volunteering, I also have to remind you of the impact that volunteers  can make to the right for health for all make. We all know that in the wider sense that volunteering is a 'good thing' and that this confers benefits to both the beneficiaries and to the volunteers themselves.   It is a "win-win".  Latest research from Volunteer Scotland published as Volunteering, Health and Wellbeing provides great data:
Improved mental health – the strongest evidence related to the contribution of volunteering to enhanced mental health, including the alleviation of depression, reduced anxiety and stress and other more serious mental health conditions.
Reduced social isolation and loneliness– volunteering is particularly important for those who are retired, are marginalised in society such as asylum seekers and those who have low wellbeing and mental health.
Enhanced physical health – volunteering can improve individual's self-rated health through the adoption of healthy behaviours such as exercise; and helping people cope with personal illness and dependency in older age.
Paul Okroj OBE is Assistant Director, People Driven Development, Chest Heart and Stroke Scotland