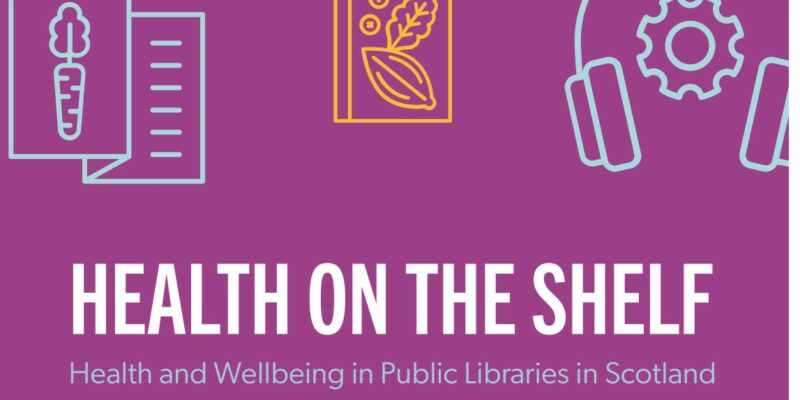 If I told you that over 700,000 people used Scotland's public libraries in 2019 for health related support – you may be surprised? This confirms what many people  already know that public libraries have supported health and wellbeing since their inception. Scottish philanthropist, Andrew Carnegie recognised public libraries as the route to self improvement, the route out of poverty and famously called them a never ending spring in the desert!  Public libraries support the societal issues of our time such as literacy, attainment, social isolation, worklessness and poverty to name but a few and health and wellbeing sits comfortably here too.
SLIC commissioned Health on the Shelf last year to fully capture Scottish public libraries contribution to health and wellbeing. Through Scotland's first public library strategy, Ambition and Opportunity, health and wellbeing remained a focus on which library services shined a light. The development and promotion of this service offer has been quite breath-taking. Library services have established close links with local partners such as health centres, the third sector and national providers such as Macmillan, Alzheimer's Scotland and Playlist for Life. National conversations between the Scottish Government, The Alliance, NHS and SLIC have moved into a concrete action plan called A Collective Force for Health and Wellbeing.
The Scottish public has long considered public libraries to be trusted safe spaces in the community. Libraries are welcoming places where people can explore. People use libraries literally for anything – so there is no stigma associated with using public libraries. By their nature, library staff want to help people. They are trained guardians of the world of information and knowledge. From local communities library staff assist the public navigate any subject of choice.
From mood boosting reads to facilitating alternative treatments, local libraries have supported mental health and wellbeing and enabling therapies in a non-clinical environment. At a time when people are feeling unsure about their health – that approachable space is the difference for people taking action to help themselves or remaining stuck with a concern.
Library venues and programmes have also been tailored to welcome people with special needs and many libraries now have dementia friendly signage and programmes, boardmaker software to assist the autistic community and film club sessions to support those who are socially isolated.
Bibliotherapy has also become embedded in the public library offer as reading for pleasure has become more recognised as supporting mental health and wellbeing. Reading for pleasure is Scotland's favourite cultural activity (according to the 2019 Scottish Household Survey) and more people naturally turned to reading for pleasure during the COVID-19 pandemic.
As we work through the COVID-19 impacted world, the role which public libraries will play in supporting communities rebuild, gain confidence and understand the new world we find ourselves in has never been more important. Health and Wellbeing will very much remain a focus of the library offer.
Pamela Tulloch is the CEO of the Scottish Library and Information Council