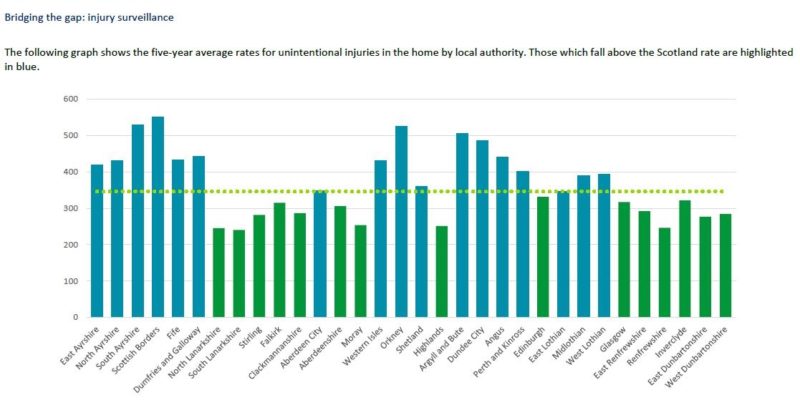 It's not often that Renfrewshire can boast having the best results in Scotland. so it's really positive news that we seem to be leading the field when it comes to falls prevention. Two reports published recently by ISD Scotland and RoSPA show Renfrewshire has the lowest rate of emergency admissions for unintentional harm due to falls in older people, compared to all other comparable places in the country. See the graphic above.  This is excellent in itself but what makes it all the more remarkable is that unlike all other areas in the reports, it is the only area where there is a downward trend of falls rates in the 85 years and over age group. One thing that makes Renfrewshire unique is that my organisation ROAR: Connections For Life  operates there.
ROAR has a contract with Renfrewshire Council/HSCP and is funded by the National Lottery Community Fund, The Robertson Trust and by income we generate through social enterprise. This has enabled us to tackle both loneliness and falls with a whole systems preventative approach over the past 5 years. We know we are making a difference, but with all preventative work evidencing that our activity truly helps save hospital 'bed nights' has always been our most difficult challenge. We hope that these emergency admission statistics will convince the Scottish Government and IJBs to look at the value of funding community safety, early interventions and prevention. We are aware of lots of great work going on around the country, and so many people passionate about making a difference, but if the systems aren't adequately joined up and the approach isn't on early intervention and ongoing prevention then it won't achieve the volume and reach required.
Scotland spends £1.3 million every day on treating older people who have fallen. Falls account for 87% of emergency hospital admissions for unintentional injuries in people aged 75 and over. That means that the cost of hospital, community and social care services for a person a year after an admission due to a fall is, on average, 70% higher than in the 12 months before the fall. ROAR's annual budget is under £0.5 million per year.
We have a real opportunity to make Scotland a leader in falls preventions. The Falls and Fractures Prevention Strategy 2019 – 2024 consultation period has now been extended. Although the ambitions are utterly commendable, the commitments 'fall' far short of the step changes in approach needed to make the difference. In the 8 years since the publication of the Christie Commission report in 2011, power appears to be just as entrenched within the statutory structure and the recommendations are long forgotten. I am committed to social justice. We have an ageing population. If we can reduce preventable unintentional harm then resources could be much better utilised across other areas of health and social care. In these troubling fiscal times more of us need to step forward and demand change.
Nicola Hanssen is CEO of  the Scottish charity ROAR: Connections For Life.