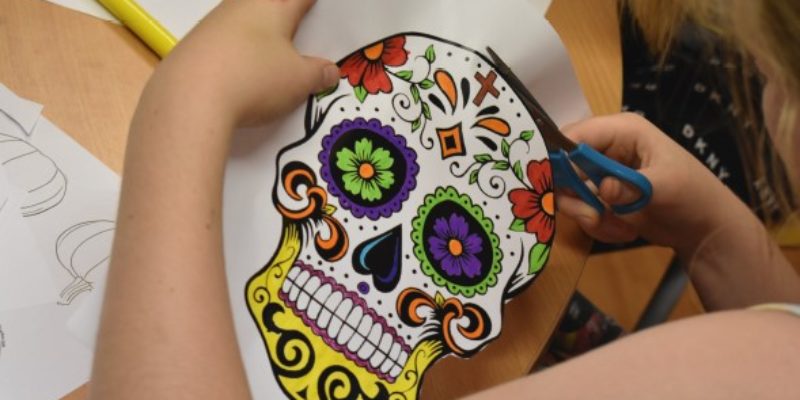 Waverley Care provides support to people living with or affected by HIV and hepatitis C in Scotland.
The people we work with face a number of physical, emotional and social challenges linked to living with highly stigmatised conditions.
These challenges can undermine self-confidence and skills in engaging with everyday life, and can lead to feelings of depression, isolation and exclusion.
Through our Art Project, we work with sessional artists, giving service users access to a range of creative activities including painting, photography and music.
Through these activities, service users are encouraged to express what living with HIV or hepatitis C means to them, while accessing valuable peer support. The project helps people to build their confidence, learning new skills in a safe, relaxed environment and building resilience to the challenges posed by living with HIV or hepatitis C.
Our service users have exhibited their artwork in a number of venues, and at events in Edinburgh and Glasgow.
The Art Project involves four of our Lothian-based services – our Children and Families Project, the Isis Women's Group, our Gay Men's Group and our Community Projects Team.
Children and Families
Established in 1991, our Children and Families Project provides holistic support to children, young people and families who are living with or affected by HIV and hepatitis C.
The project promotes creative arts to children and young people as it provides and outlet for them to express themselves through various art mediums, supporting their emotional wellbeing.
Over the years, creative arts has become an integral part of our service. This year, young people have had the opportunity to participate in drama and music projects, alongside regular art workshops.
The project provides a safe environment where young people are encouraged and supported to learn and grow in confidence.
'It was fun making funky cushions for our bedrooms, we chose the materials and made our own patterns, the final result looked fab!'                                                                                                
'African Drumming is so cool; I'm going to do more drumming in the future!'                                                                                                                                
The Isis Women's group
Isis, named for the mother goddess of ancient Egypt, is a support group for women living with HIV in Scotland. It was formed in 1995, and has met on a weekly basis ever since.
The group provides a safe and supportive space in which women can share experiences, information and provide each other with peer support.
The group uses art as a way to explore and discuss issues affecting women living with HIV or hepatitis C, and as a way to support women to improve their confidence and self-esteem. Over the last year, the group has explored a range of issues using a diverse selection of creative media.
'When I first started coming I thought I didn't have a creative bone in my body, but I've been so surprised at what I've done. I've seen a whole new side to myself.'
'My kids are constantly surprised by the things I bring home; they don't believe me when I say I made them myself. It's really helped my self-confidence.'
Gay Men's Support Group
Established in 2007, our Gay Men's Group organises regular activities and peer support groups to support men living with HIV or hepatitis C.
The group offers the chance for men to share experiences and discuss issues important to them, providing emotional and practical support. Importantly, the group is also a safe space where men can socialise free from stigma and discrimination.
The arts play an important role in the group, from regular outings to the cinema, theatre and galleries to practical projects that members can get involved in using a variety of mediums.
Alongside learning new skills, the men in the group have commented on feeling less isolated and have developed new social networks with other men.
'I really enjoy the group, going to the theatre and art galleries has given me a new lease of life.'
The Community Projects Team
Our Community Projects Team provides one-to-one support to vulnerable service users living with HIV or hepatitis C, supporting them to live well with their condition.
The service encourages people to overcome social isolation by engaging in their own community. This includes access to the arts, including outings to theatres and galleries. The service also provides a wide range of different art activities which service users find relaxing and therapeutic.
Service users can share experiences, concerns and information about living with HIV or hepatitis C while learning new art-related skills. Service users have stated that the service has made them feel less isolated and supported them in developing new social networks.
'Being part of a group makes me feel more accepted and has helped me come to terms with my HIV diagnosis.'
 Murray Cheek is the Communications Officer for Waverley Care
View the poster which has been chosen as a finalist for our Annual Conference Poster Competition: Waverley Care Art Project Poster