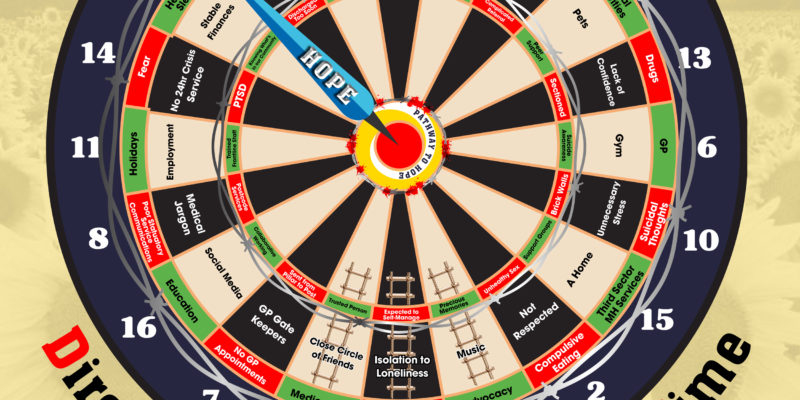 Art is something that a group of young adults with poor mental health in Drumchapel have found helpful in terms of expressing how they feel, as well as the journeys and experiences they have had in trying to work towards their own recovery.  On hearing that the VHS Annual Conference 2019 would focus on "The Right to Health," they were keen to be involved and show in visual form just how difficult it can be to access mental health services. The resulting poster is a finalist at the conference, so read on to find out more.
The Young Adults Project is co-facilitated by two Community Links Practitioners (CLPs), myself  and Lorna Robertson, in partnership with the young adults who attend. We are based within two GP Practices at Drumchapel Health Centre and we identified a gap in service within Drumchapel and surrounding areas for young people with long term mild to moderate mental health issues, although often presenting during periods of crisis.  Engaging initially from GP referrals through GP and CLP partnership working , the young adults had found themselves to be socially isolated from others of a similar age, and could not engage with others at social options available within the community; thus developing  experiences of extreme loneliness and worsening poor mental health.  The CLPs set up a group focused on young people whose needs were  unmet due to mental health issues and who felt sometimes let down by statutory services or uncertain how to access sources of appropriate support.
The young people meet weekly and provide peer to peer support to each other, along with 1:1 support being available from CLPs when necessary.  All participants are registered within one of the practices in which the CLPs are based.  They take part in various activities, including sports, supported sessions on public transport to enhance confidence and mobility training and discussions around health living along with what it means to live well.
Having all experienced poor mental health, and consequently faced difficulties in accessing the RIGHT SERVICE at the RIGHT TIME, they decided a good way to visualise this would be on a D.A.R.T. (Direct Action at the Right Time) board.  They described trying to access mental health services like  "trying to hit a dart board." They felt that often, trying to access statutory mental health services was similar to trying to hit the bullseye – all participants were in agreement that it is extremely difficult to access these services, and that there are a number of barriers in the way preventing them from doing so; barriers they didn't know how to navigate, thus constantly found themselves back at their GP.
The dartboard lays out visually the barriers to accessing mental health services, along with platforms of support and safety nets.  As with an ordinary dartboard, the chances of landing on the solid white blocks are likely to be much higher than making it to the bullseye, in this case the appropriate mental health service, which can allow people to begin to HOPE for recovery. They often feel like they are on a "snakes and ladders" board, where they describe having made some small progress in trying to get some help, only to be knocked back again. Their vision is their design of the DART board may help raise awareness of how hard it can be to get the right support at the right time, especially when in crisis, then promote and influence change in the way that services are accessed and resourced for all.
Blog Author: Margaret Ann Prentice, Community Links Practitioner, Drumchapel Health Centre, Glasgow.
DART is a finalist in the VHS Annual Conference Poster Competition.