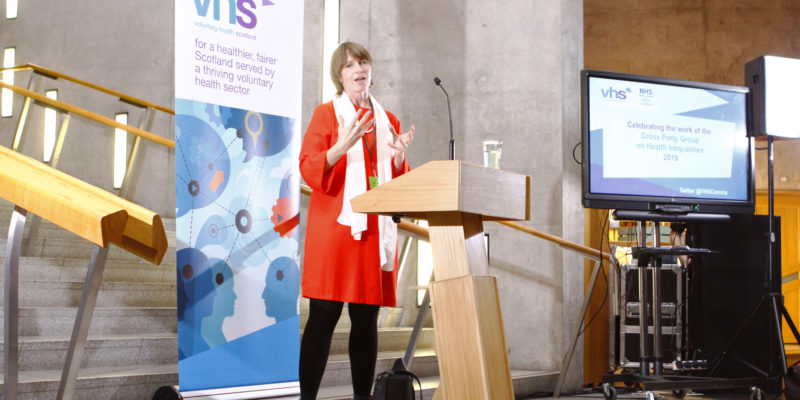 What will it take to ensure healthy, prosperous lives for all across Europe?
On 5th November 2019, Dr Johanna Hanefeld was VHS's guest speaker at our Scottish Parliament reception held to celebrate the work of the Cross Party Group on Health Inequalities. Dr Hanefeld is Associate Professor of the London School of Hygiene and Tropical Medicine, leading their Berlin office. She was visiting VHS as a representative of the World Health Organisation (WHO) Health Equity in Europe Initiative. Her theme was healthy, prosperous lives for all: the five barriers that hold people back from good health, the six key challenges that stop us getting it right, and the three solutions to eradicating health inequalities.
Earlier that day Johanna had given a more in-depth presentation on the WHO initiative to a VHS round table of 20 representatives from the third and public sectors. Attendees at both events included representatives from the Scottish Government, Health Improvement Scotland, Care Inspectorate, NHS Health Scotland, Scottish Public Health Network, charities and social enterprises. Eight MSPs joined the evening reception and it was hosted by Anas Sarwar MSP.
Dr Hanefeld's full presentation can be seen here.
The background to VHS's involvement with WHO includes the fact that Scotland now has one of the lowest life expectancies in Western Europe and the lowest of all UK countries. This was not always the case – in the earlier half of the 20th century Scotland's life expectancy was well aligned with others in Europe.
In the early part of 2019 WHO approached VHS in our role as Secretariat to the CPG on Health Inequalities, to ask if the CPG would be happy to be included in WHO's planned case study report on Health Equity in Europe.
WHO was looking for concrete approaches, which, if adopted across the WHO European Region of 53 countries, could create the conditions for all Europeans to be able to live healthy, prosperous lives and with reduced health gaps in the lifetime of a single parliament.
In June 2019 the case study on the CPG was duly published, together with 31 other case studies, as part of the WHO European Health Equity Status Report Initiative. Our Policy Engagement Officer Kiren Zubairi travelled to Ljublijana, Slovenia for the launch conference, as an invited speaker for the final plenary session. The presentation she gave, along with the published case study, is helping to spread the word and the learning about Scotland's unique approach to fostering cross-party collaboration to better understand what causes health inequalities and what works in addressing them.
Read the case studies report here.
Access additional WHO Health Equity in Europe resources here.
We hope to strengthen our engagement with WHO, as collaboration and sharing learning across Europe and the world is vital to our ability to reduce inequalities in Scotland.
Click on the photo below to view all the photos from the Scottish Parliament Garden Lobby Evening reception event on the 5th November 2019.