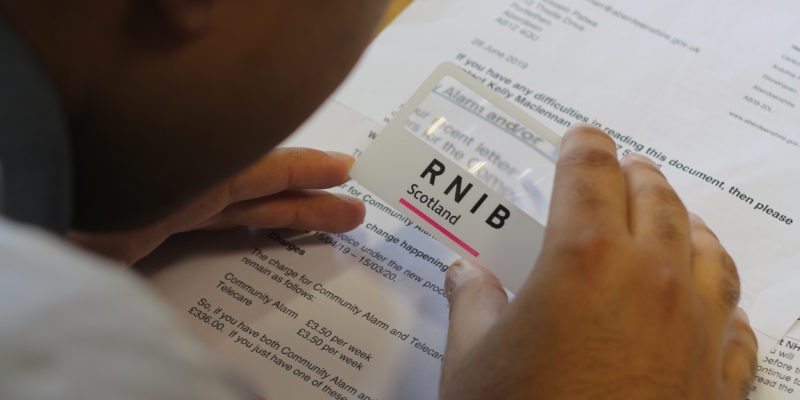 Patients rely on good communication to ensure that they understand their health information and needs. But all too often, blind and partially sighted people are being left with information that is inaccessible.
Having access to and understanding information on eye healthcare, and other healthcare services, is essential – around 170,000 people in Scotland have significant sight loss so the need for accessibility is high.
Almost a decade since the passing of the Patient Rights (Scotland) Act 2011 which states 'You have the right to be given information about your care and treatment in a format or language that meets your needs', RNIB Scotland has compiled a report which contains patient experiences and input from Scottish Health Boards about their policies and procedures in accessing and providing accessible information.
'Communication Failure? A review of the accessibility of health information for blind and partially sighted people' expresses the need for managing blind and partially sighted people's requests for accessible formats, in a timely and consistent manner. This not only creates clear communication and understanding between the individual and the health service, it can also prevent any unnecessary delays that could lead to a greater risk of sight deterioration for patients.
Key findings from the report include:
Patient confidentiality is breached due to individuals relying on carers, relatives or friends to read appointment letters on their behalf.
Individuals are being put at risk of missing treatments, potentially leading to unnecessary sight loss, due to the lack of accessible documents.
Some individuals were told that they could cope without an accessible format so now feel unable to request their requirements.
Some people with sight loss did not feel 'worthy enough' to request and/or complain to their health service.
Demand for healthcare services continue to increase and more people are waiting longer to be seen. Ongoing challenges facing the NHS include increasing costs and growing demand, with these challenges continuing to intensify. Giving patients inaccessible information is only adding to this burden.
Whilst good policies and procedures from the health sector may exist on paper, too often people with sight loss receive information in formats they can't read; even when healthcare providers know they have sight loss.
The effects of not receiving information in a preferred and accessible reading format should not be underestimated. This is leading to people with sight loss feeling unable to take control of their own health needs whilst their patient confidentiality can be compromised.
Blog Author: Laura Jones, Senior Policy Officer (Health and Social Care), RNIB Scotland
RNIB is a finalist in the Poster Competition at VHS's Annual Conference 2019 Realising the Right to Health being held on 17th September 2019. View the poster here.