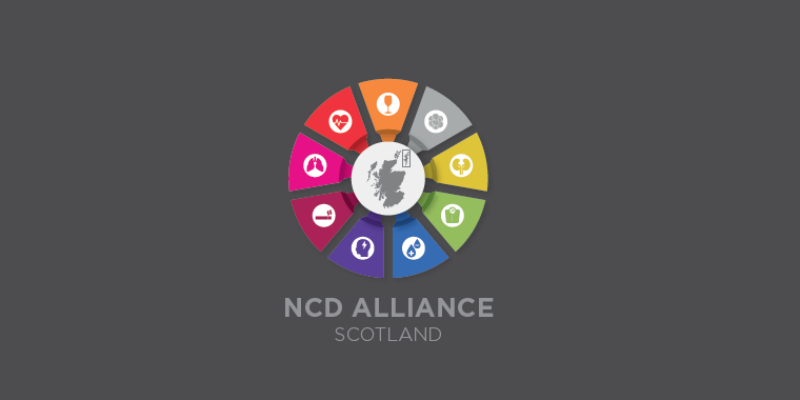 Industry's Role in Health Inequalities: The Burden of NCDs in Scotland
Non-communicable diseases (NCDs), such as heart disease, diabetes, stroke, liver disease and cancer, are the leading cause of death in Scotland, causing around 53,000 deaths in 2021. NCDs are also major contributors to the widening health inequalities that exist between our most and least deprived areas, placing an unjust health burden on our most vulnerable communities.
A major driver of this death and ill health are health harming products, also known as the commercial determinants of health. Alcohol, tobacco, and products high in fat, salt and sugar (HFSS) are estimated to be responsible for 1 in 5 NCD deaths and are a major driver of health inequalities. These deaths are wholly preventable through public health interventions, and action is vital to close the health inequality gap to protect our most vulnerable groups.
NCD Alliance Scotland, a group of 20 leading health charities and organisations, are calling for the Scottish Government to act on health harming products urgently to reduce the burden of NCDs and reduce the uneven health burden on our most vulnerable communities.
Health harming products and health inequalities
Alcohol, tobacco and HFSS products are heavily marketed, widely available, and purposefully priced and promoted to drive consumption at the expense of our health. Our right to a healthy life and easy healthy choices are impacted by the strong influence of industry every day. When we walk through the supermarket, when we shop online, when we watch our favourite sports teams and even when we walk around our local communities this influence is being felt.
Evidence shows a clear link between the increased availability of health harming products in communities and poorer health outcomes. Exposure to advertising and marketing for these products is unavoidable, which is why NCD Alliance Scotland's priorities are to target promotion, marketing, and availability across these heath harming products.
There is currently a 24 year gap in healthy life expectancy between our most and least deprived areas and one of the key drivers of this are differences in the consumption of health harming products. The harms from the consumption of tobacco, HFSS products, and alcohol are highest in the most deprived areas, and this is being driven by the unequal influence of the commercial determinants of health.
Ultimately this means that many in our most deprived communities won't live to see their grandchildren grow up. This unjust burden is only growing, and without strong, decisive action by the Scottish Government, it will only continue to do so.
Why population level action?
We know how vital community-level action and community involvement is in addressing health inequalities and empowering people to live healthier lives. But alongside this, we believe that action is needed to reduce industry's influence across Scotland as it is the most effective way to reduce the influence that health harming products have on our health. Through population level action, we can target the tools used by industry to harm our health and best utilise the powers of the Scottish Government to protect public health.
Industry should have no voice in public health, but at the moment, it does. Recently NCD Alliance Scotland pressured the SNP party to remove an event at its conference that was sponsored by Japan Tobacco International. The event claimed to address the prevalence of vaping among young people but allowed JTI a voice in the public health sphere. We know that the tobacco industry and its allies are not credible public health stakeholders and should not be treated as such. This stance is supported by the WHO, whose Framework Convention on Tobacco Control states that commercial interests should have no part in tobacco control policy.
This is also true of some other industry bodies such as the Scottish Grocers Federation, who were scheduled to speak at the JTI event. Some of these organisations claim to represent the interests of small businesses, but receive significant funding from multinational tobacco companies and have been shown to regularly lobby on the behalf of the tobacco industry on public health matters.
To turn around the significant health harms caused by alcohol, tobacco and HFSS products, we need to tackle the influence of industry and make the healthier choice the easier choice. This includes taking action on the commercial determinants of health, as well as reducing the influence of the health harming industries on Scotland's politics.
What we're calling for  
Restrict price and location promotions on high, fat, sugar and salt (HFSS) products.
Restrict the advertising of alcohol, HFSS products, and vaping and tobacco related products.
Introduce an alcohol harm prevention levy.
Create a mandatory requirement to provide health information (including drinking guidelines and health warnings), ingredient and nutrition information on alcohol labels.
Restrict the advertising and promotion of vaping products.
Make the tobacco control register conditional.
Introduce automatic uprating of the minimum unit price for alcohol.
Further restrict the display and promotion of alcohol in shops so it is only visible to those seeking to browse or purchase alcohol
Through these legislative calls to action, we aim to disrupt the current status quo and ensure the burden of NCDs is not perpetuated by large, rich, powerful companies for profit. Instead, we want to support the empowerment of communities across Scotland to live longer, healthier lives.
Kym Kestell is the Policy and Public Affairs Coordinator at British Heart Foundation