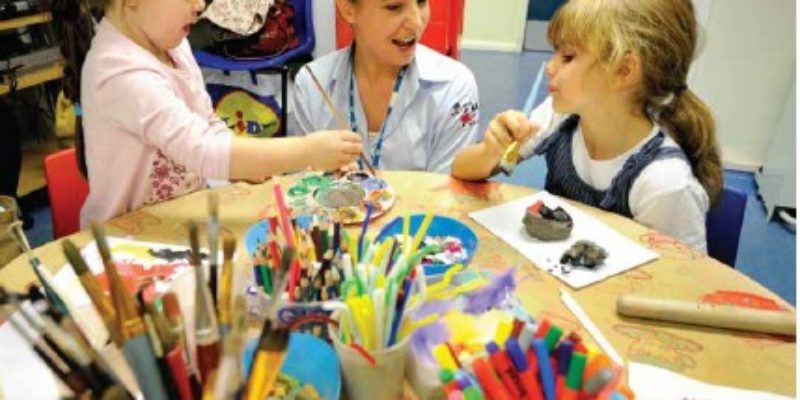 Teapot Trust is delighted that our poster 'Transforming the Treatment Matrix: using art therapy to help children manage and cope with their illness' has been chosen as a finalist for the VHS Get the Picture Conference poster competition, and we are excited to be participating in the upcoming VHS Get the Picture: Culture Health and Wellbeing Conference!
We are a Scottish Charity that provides early art therapy intervention to chronically ill children in hospital settings throughout the UK. Currently, we provide 24 services in 11 locations throughout the UK, with services to be launched in at least 10 additional locations within the next year. Through the provision of different types of services (Open Group, Ward-based and One-to-One art therapy) in different clinical settings and populations, we also work to address inequities in patient access to art therapy intervention.
Taking our inspiration from the children that use our service and our art therapists, our poster uses a collage of fun infographics, photographs and text to tell delegates about our cross-sectoral approaches to provide early art therapy interventions to chronically ill children and to influence policy change in the provision of treatment in the healthcare system throughout the UK.
We aim to provide sustainable art therapy treatment to as many chronically ill children as possible. Our poster details what we have learned from family and clinical feedback: children with life-limiting conditions manage and cope with their illness better when they receive art therapy in parallel with medical treatment.
We have learned that early art therapy intervention can
reduce anxiety,
help children express themselves,
facilitate communication with family members and medical staff, and
increase children's engagement with the wider community.
Our poster also invites delegates to see 'Teapot Trust Art Therapy in Action' by following 'Jamie's Journey': an infographic presentation of a qualitative case-study of a young boy, who successfully worked with his art therapist to manage his needle-phobia and overcome his anxiety over routine hospital appointments.
Currently, Teapot Trust is the largest employer of art therapists in the UK, and our poster explains why our use of only BAAT certified art therapists is crucial to the success of our programmes. We  embed our art therapists into the clinical teams, which ensures that
the art therapist and medical staff work together to provide medical and mental health support to the patient; and
support is given to the entire family, because the diagnosis of a child with a life-limiting illness effects the whole family.
The problem is that while it is common knowledge that early art therapy intervention can play a crucial role in the health and wellbeing of chronically ill children, there is a lack of evidence-based research on the topic. Thus, the benefits of early arts-therapy intervention in medical settings are not well understood, and policy decision makers do not have access to the 'hard' evidence that they need to make recommendations for the integration of arts-based therapies into the healthcare system.
To change this, we have launched The Teapot Trust Research Programme to produce evidence-based research, the results of which can be communicated to health decision makers and fed into policy consultation in the UK. The goal is to transform 'the health and care system from a hospital-centred and illness-based system to a person-centred and health-based system'.[1]
Our poster will introduce delegates to our research programme, giving them insight into the cross-sectoral approaches we are taking to produce evidence:
Service Reviews into the efficacy of embedding art therapists in paediatric rheumatology clinics at Edinburgh's Royal Hospital for Sick Children, Glasgow Children's Hospital and Nottingham Children's Hospital;
a feasibility study on art therapy intervention and Methotrexate adherence in paediatric rheumatology patients at the Great North Children's Hospital, Newcastle; and
a qualitative study on the benefits of art therapy for siblings of chronically ill children with the Centre for Research on Families and Relationships, University of Edinburgh
We look forward to seeing you all at the Conference and invite you all to stop by and have a chat with our Art Therapy Project Coordinator, Kirsty Edwards. We would love to get your feedback on our services, as well as our cross-sectoral approaches to research and efforts to encourage the uptake of Teapot Trust's research. After all, it's all about doing everything we can to change the conversation as well as policy!
Dr Kristin Leith is the Research Program Coordinator at the Teapot Trust:  kristin@teapot-trust.org
View the poster which has been chosen as a finalist for our Annual Conference Poster Competition:  Teapot Trust VHS Poster
For more information please visit our website at www.teapot-trust.org. If you would like more information about our services, contact Kirsty Edwards, Art Therapy Project Coordinator, kirsty@teapot-trust.org or on our research programme, contact
[1] All-Party Parliamentary Group on Arts, Health and Wellbeing Inquiry. 2017. Creative Health: The Arts for Health and Wellbeing (The Short Report) 4. All Party Parliamentary Group: UK.