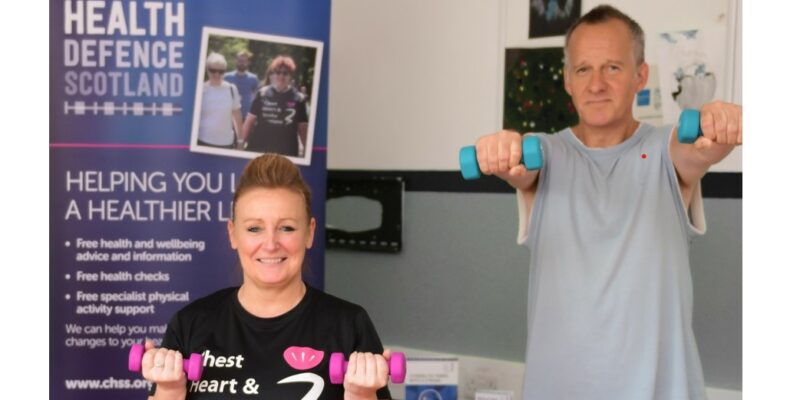 A day at our Health Defence Hub in Maryhill.
There is no average day at the Maryhill Hub. There is always something going on, or something on nearby in the community to keep us on our toes. It has been a short 6 months since we launched our programme on the ground in Maryhill, but we have learnt so much in that time, made so many wonderful connections with people and have so much more we want to achieve together with the local community.
The Hub opens at 9am and the first part of the day is usually focused on managing any new referrals that have come in via the various routes into the project. At 11am we have our health walk, which has grown to be an extremely popular walk and is very well attended by the men of Maryhill. These walks are great for so many reasons – it provides a safe place for some exercise but also for some conversation. It's in the gift of physical activity that we can provide so much more through social and emotional wellbeing too.
After the walk has finished, there might be time for a health check or two. These are simple at the moment – blood pressure checks, cholesterol checks, BMI are offered and can provide screening but also a conversation starter and an opportunity to talk about lifestyle and most importantly what matters to them.
After lunch our physical activity specialist enters the arena to deliver a couple of sessions aimed at supporting people with their functional movement – the emphasis here is on the FUN. Strength and balance and some easy circuits support people with simple things that they can do from home that will help them on their way to meeting the CMO guidelines for Physical Activity.
Other team members may be out doing a spoke event with one of our partners, for example health checks and conversation with "We are with You"  – essential for building local partnerships and relationships across communities.
Then when all is done it is a return to base for some data capture and entry to ensure we can demonstrate what we are doing is making a difference. That is why we are here, to make a difference and here is an example of why what we do is so important…
Case Study:
Male
Working Age (30s)
Referral Source: DWP
Story: Male arrived in Glasgow only a few months ago having had to flee Ukraine where he was studying. Male received advert for our health checks through his Universal Credit file and came in to see our team in Maryhill. Unfortunately, Male had extremely high blood pressure (a hypertensive emergency) which meant he was at a much higher risk of a heart attack or stroke. Through the swift actions of our team and the receptive local health care centre in Maryhill the male was able to get his blood pressure checked again for confirmation and was immediately put on medication to control his high blood pressure. He was extremely grateful for the service as otherwise this could have been something that wasn't picked up and he could have gone on to develop something very serious. We will now work with Male to support him to make positive lifestyle changes.
Not only does this story demonstrate the human element to our work but on a practical level it highlights how prevention in the community can make a massive difference to the public purse too. Had this person gone on to have a stroke, the cost of his acute care, community rehab and potentially life lasting support would have run in to the tens if not hundreds of thousands. Proactive prevention and early intervention really is key.
Kevin Miller is the Health Defence Coordinator for Chest Heart and Stroke Scotland
View the Poster for the VHS Annual Conference: Chest Heart and Stroke Scotland: A year of Community Health Defence