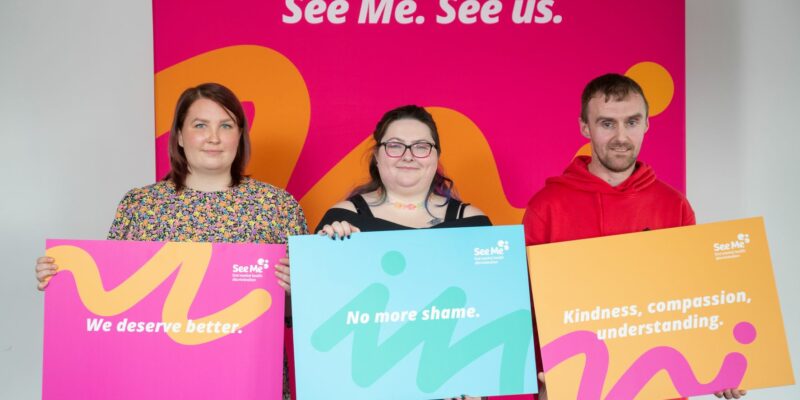 Working to reduce the stigma experienced by people living with complex and enduring mental illness in Scotland.
What is the Scottish Mental Illness Stigma Study?
The Scottish Mental Illness Stigma Study is the first programme of research in Scotland to explore how, where and to what extent people are stigmatised and treated unfairly because they live with complex mental illness. This work was commissioned by See Me, Scotland's national anti-stigma programme and managed by the Mental Health Foundation, delivered in partnership with Glasgow Caledonian University and The Lines Between, and supported by VOX Scotland.
The work was inspired by the Our Turn to Speak study carried out in Australia. The study involved a survey for people with lived experience of complex, severe and enduring mental illness aged 18 and over and living in Scotland, who had experienced stigma and discrimination in the past 12 months in different areas of their lives, including in their relationships, jobs, mental healthcare services, social media and education and training.
Why did we do the research?
The work aimed to understand and highlight the ongoing injustice that people with complex and long-term mental illness face in society, and to explore their ideas about how we can work to end this. This gave people who live with mental illness a platform to share their experiences. Through use of the data collected we are able start a national conversation about why many people living with mental illness limited access to and enjoyment of the things that many of us take for granted, including forming and maintaining relationships, starting a family, enjoying work, receiving appropriate healthcare and feeling included in society.
What did we do?
The survey was completed by 346 people between November 2021 and March 2022 and an additional 70 people took part in interviews and focus groups between June and August 2022 to add depth to the survey findings, and to explore the experiences of people from more diverse communities, men and people aged over 65 who were under-represented in the survey.
What did we find?
The research findings are stark. They tell us more about the devastating impact that stigma and discrimination have on how people live their lives. Those who completed the survey experienced mental health stigma and discrimination most frequently in their relationships with family and friends (92%), healthcare services (78%), social media (78%), mental healthcare services (74%) and mass media (73%).
For those who experienced mental illness stigma in their relationships, almost half (45%) said that they had stopped themselves from starting a family or having children because of this. In mental healthcare services, over half (58%) of people avoided calling an ambulance or going to A&E during a mental health crisis. Many people (84%) who reported experiencing stigma and discrimination in welfare and financial support services said that they have been denied support because their mental illness did not meet eligibility criteria and 70% told us that they had stopped applying for support.
Participants told us they feel misunderstood, neglected, excluded, marginalised and dismissed because of their mental illness.
What's next?
This is only the beginning. This first stage of the work is just the start of a long-term commitment to tackle mental illness stigma and discrimination in all areas of society, led by people with lived experience. The research has told us what needs to change, and we will take action to enable this change to happen.
Would you like to be involved in creating a fairer society in which people with mental illness are treated with respect and dignity? Sign up to our movement for change and make a real difference.
View the Poster for the VHS Annual Conference: See Me -With Fairness in Mind