Introduction
ASH Scotland – Action on Smoking and Health (Scotland) – is the independent Scottish charity taking action to reduce the harm caused by tobacco. The IMPACT Project is part of our work to support the Scottish Government's target of achieving a national smoking prevalence rate of 5% or less by 2034, by helping to address the high smoking rates amongst people with mental health problems.
Smoking and Mental Health
About 1 in 4 of us will struggle with mental health problems at some point in our lives. There are wide ranging symptoms from mild anxiety to more severe conditions like schizophrenia. These can all have a significant impact on people's lives.
The smoking prevalence rate for the general population in Scotland is 17%, and has been decreasing for some time. However, rates for people with mental health problems are significantly higher, and for those living in the areas of highest deprivation, higher still. Many people with mental health problems will state that smoking helps them cope or keeps them calm. Actually, smoking causes anxiety through the withdrawal effects of nicotine in tobacco. Nicotine is the addictive substance in tobacco and is as addictive as heroin or cocaine. The process is described below.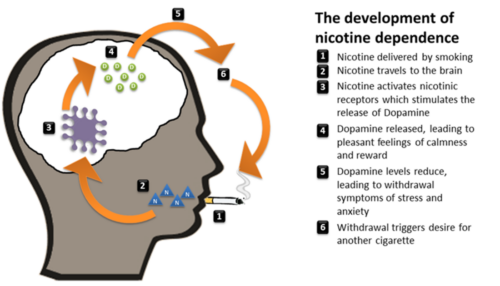 Smoking is the leading cause of preventable disease in Scotland. There are nearly 100,000 smoking-related admissions to hospital each year and over 9,000 smoking-related deaths. In areas of high deprivation 35% of ALL deaths are attributed to smoking. Smoking-related deaths are greater in number than deaths from drugs, alcohol, suicide, accidents and murder combined.
Smoking also affects some commonly prescribed mental health medications. Tobacco smoke stimulates enzymes in the liver which break down and eliminate medication from the body more quickly than would be the case in a non-smoker. This renders some commonly prescribed medications, like Diazepam, up to 50% less effective and requiring a higher dose to be prescribed in order to achieve a therapeutic effect.
What can be done to address this?
ASH Scotland believes that if people were aware of how smoking affected their mental health and the medication prescribed to manage their symptoms, they might be motivated to consider getting support to quit.
The IMPACT Project provides free training and resources to support any worker or volunteer who supports people with mental health problems. IMPACT provides monthly one and two-hour online sessions about smoking and mental health. You can register for these on Eventbrite. ASH Scotland is also happy to arrange sessions for individual services.  If any community link workers are interested in finding out more about this, just contact Jim O'Rorke at jororke@ashscotland.org.uk for details.
People with mental health problems, and those who live in areas of high deprivation in particular, deal with a major health inequality. People with mental health problems die up to 20 years younger because of preventable physical disorders and smoking is a major contributing factor to this.
IMPACT will provide the information you need to give very brief advice about smoking and mental health to the people you support and help signpost them to local stop-smoking services.
Jim O'Rorke is Development Officer with ASH (Scotland)