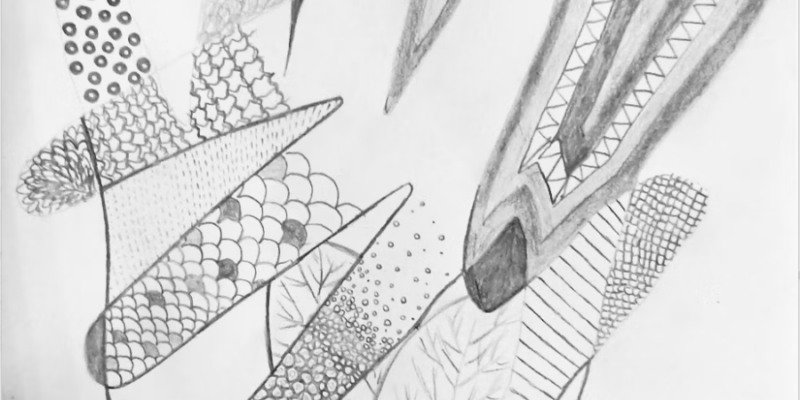 Taking Art Home is a project working with older adults living in residential care homes across South Lanarkshire as well as people living with Long Covid throughout Scotland. It aims to benefit participants by providing access to quality visual art and building personal confidence through participation in creative workshops.  It is delivered by Art in Healthcare in partnership with Covid:Aid, Luminate and South Lanarkshire Council.
This blog will focus on the Long Covid strand of the project.  We have been running weekly creative sessions with people living with Long Covid in partnership with Covid:Aid.  During the online sessions we explore different creative activities together but remotely. If anyone can't make a session there is pre-recorded video content available.
Project Objectives
People living with Long Covid will have increased opportunities to engage with visual art
Participants will experience improved mood
Participants will increase the amount of time they are absorbed in a creative activity
Art in Healthcare staff will increase the number of ways they use their collection to make people feel better
Blocks 1 and 2 – March- June 2023 and July – September 2023
We ran 20 live sessions online through the covid aid platform, with an average of 10 participants per session. In total 18 unique participants took part in the live sessions. After feedback from block 1, block 2 had a mix of visual art sessions and some that were more focused on craft, for example weaving and embroidery.
Outcomes / the difference the project made
People living with Long Covid will have increased opportunities to engage with visual art
Each workshop started with a discussion or description of an artwork from the Art in Healthcare collection and then we did a creative inspired by this. Participants responded best to low mess, fairly simple practical activities:
"The very simple drawing and printing activities from earlier in the block – they didn't require too much equipment and were easy to get out and put away. They have also given me skills/options for a quick 5-minute relaxation task that I can continue to use easily without too much pre-planning."
Others have found that through taking part in the classes they have discovered new techniques which they are continuing to do in their own time.
"I have also been doing wee bits on my own sometimes which I never ever did till I started these classes."
Participants will increase the amount of time they are absorbed in a creative activity
Many long Covid participants say they find the sessions pass really quickly, or are a good distraction from how they are feeling for example during one drawing activity on participant said she had felt very stressed today and this had been a positive distraction. A microscopic drawing activity prompted this response from another participant:
"So thank you 😊 I forget about my problems, aches and pains for a while."
One of the most popular sessions was a hand doddle exercise, were participants drew round their hands and filled in the spaces with different patterns. Multiple people remarked how quickly time was passing and lots continued to work on their drawings (or start new ones) during the weeks after the session.
Participants will experience improved mood
Many participants joined Taking Art Home at a point of crisis, with their daily lives changed almost beyond recognition through Long Covid. Some spoke of chronic pain, inability to work, inability to concentrate, low mood and inability to cook for themselves. The classes have had a notable impact on participants mood – offering a space where they can do something for themselves. Many participants also find the sessions relaxing and highly value this aspect.
"I absolutely feel that these sessions have helped me to develop new methods of relaxation and rest – the things I did previously to my illness are no longer a possibility for me, so I cannot understate the value this has."
 Participants value the fact that the activities are low mess and easy to do from bed.
"In terms of my recovery, this has been really one of the most beneficial things I've done. I don't need to focus on my health or my ability (or lack of) and have dialled into most sessions from bed with my camera off, though still doing the art!"
Although the project is for people who are living with Long Covid we try to keep the focus on our artwork, and the creative things people are working on.  Participants seem to value that they are with people who understand what they are experiencing but the focus is on something else:
"It was good to speak to other people who are in a similar situation to myself, although the chat wasn't usually about long covid that was a good thing, it allowed me to forget about it all and feel normal for a change."
Blog written by Jeni Allison, Artist: Taking Art Home, Art in Healthcare
Art in Healthcare are finalists in the VHS 2023 Annual Poster Competition. View the poster entry here