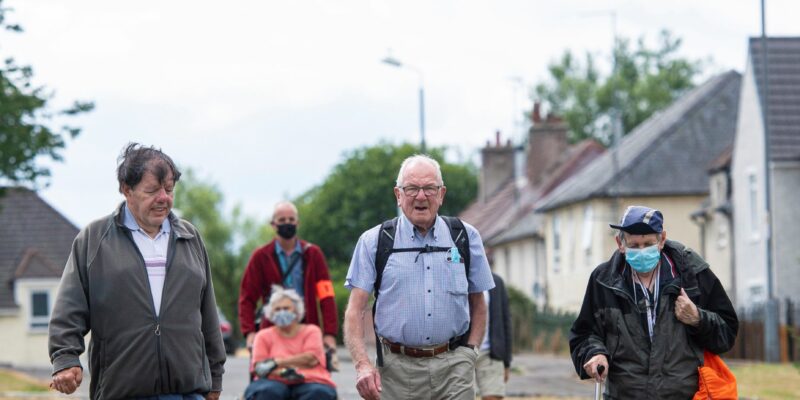 "These walks have been a life saver for many, especially at a time when more and more personal and social restrictions are affecting lives. These walks allow individuals to interact in a Covid 19, safe, secure and well managed environment, by a Walking Group Leader who understands and appreciates how people are feeling at this intense and uncertain time".
This is feedback we received at Paths for All from a member of the Scottish Health Walk Network that we had supported to restart Health Walks in their community during the pandemic. We did everything we could during this time to keep people walking and active so they could help themselves to stay well.
Health Walks are:
A group walk
Led by a trained volunteer
Low level
Short
Free
Sociable activity
An opportunity to meet people locally and explore new places
Covid-19 has had a severe impact on people's ability to access health and wellbeing activities throughout Scotland. Cancelling all 600 Health Walks a week was devasting as we knew how important they were to people and the negative impact this could have on their health and well-being. But compared to most activities it was for a relatively short period of time, only a few months. During the pandemic Paths for All was there every step of the way, working with Scottish Government restrictions to provide guidance to the Scottish Health Walk Network to support the safe restart and delivery of Health Walks, so people could get out and keep hearts pumping and spirits up even if it was only 2 people at first. Ten versions of that guidance later, we know it has proved invaluable for keeping projects delivering and people physically activity and connected in their communities.
Walking can be key to maintaining and supporting health and well-being at the very heart of communities. For good physical and mental health, adults should aim to be physically active everyday. Why walking?
It's free
You can start slowly and build up gently
You can walk anywhere and at anytime
You don't need specialist equipment
It connects you with your community and nature
However the Network recognised that not everyone who used to get out could, but we still wanted to keep hearts pumping; Strength & Balance leaflets went into homes via food parcels, spirits were kept up by connecting people through telephone trees and walks being live fed. Helen at KA Leisure tells her inspiring story in this short video.
The Walking for Health Team got inventive too, we adapted how we deliver. We moved our Walk Leader training online. This was hugely successful for new volunteers coming forward in the early days, it helped projects get ready for the restart of Health Walks and we reached new audiences such as remote communities or those lacking transport or childcare. We plan to keep a mix of online and face to face training in the future.
We set up online Regional networking meetings, enabling local projects to get together as they were no longer seeing each other out and about in the community. These consisted of an update on Health Walks guidance, training, newly developed resources then a space for projects and community leaders to discuss issues and concerns. This also gave us a window into these communities to develop nationally relevant resources and support.
The pandemic has been an ever-evolving picture that requires a dynamic response from Paths for All supporting the Scottish Health Walk Network 300+ member organisations, of which 41 were new during pandemic, to ensure we keep hearts pumping and spirits up through walking.
If you would like to access or signpost/refer someone to a local Health Walk then please use our 'Find a Health Walk' map, using the postcode searcher.
Helen Morrison is a Senior Development Officer for Walking for Health at Paths for All
View the Paths for All Poster for the VHS Annual Conference Poster Competition here.