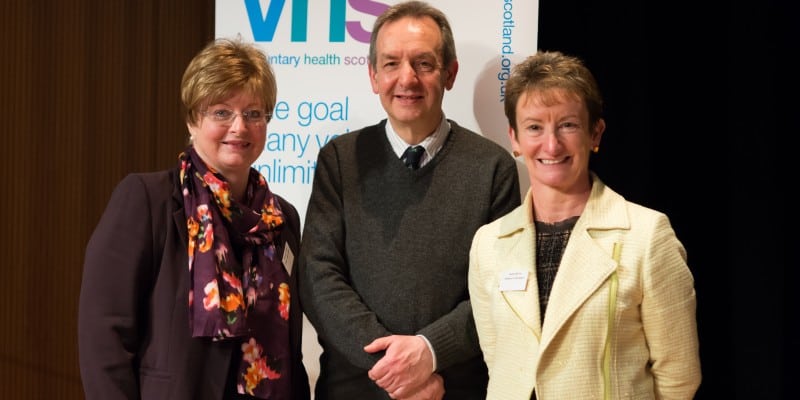 The Scottish Storytelling Centre was a very apt venue for this year's AGM and Annual Symposium on 27 November. Our 65 delegates were treated to Professor Ian Deary's compelling and data packed presentation on what makes for healthy cognitive ageing. Ian drew extensively on the rich seam of evidence provided by the various "Lothian birth cohorts", people whose health first came under the microscope in 1936 and who have been regularly  tracked ever since.
So what makes for a healthy brain in old age? Ian's message was 'Look behind you!' for the clues, especially at your early years and childhood, a cue for Jackie Brock's incisive presentation from the children's sector. In our old age we are 'panning for gold dust, not nuggets' in terms of brain power said Ian. A perspective that our third presenter, Maureen O'Neill, set out to counter-balance, with a critique of contemporary society's attitudes towards older people. She said: "we have developed a language of growing old being a problem and this becomes embedded in our consciousness."
More information:
Professor Ian Deary recommends you watch the15 minute version of his Symposium presentation, available on the British Academy website: The Best Years of our Lives?  Go to the second video on that page and start watching from minute 13.04.
You can find out more about healthy cognitive ageing by watching the full video, which also includes Sally Magnusson, Professor Catharine Ward Thompson, Professor James Goodwin and Henry Simmons.
To find out more about the work of the Centre for Cognitive Ageing and Cognitive Epidemiology, go to their website CCACE or follow them on Twitter: @CCACE.
Read the Symposium presentation given by Maureen O'Neill of Faith in Older People here: Maureen_O'Neill_presentation_VHS_Symposium_Nov_2014
Read the Symposium presentation given by Jackie Brock of Children in Scotland here: Jackie_Brock_presentation_VHS_Symposium_Nov_2014