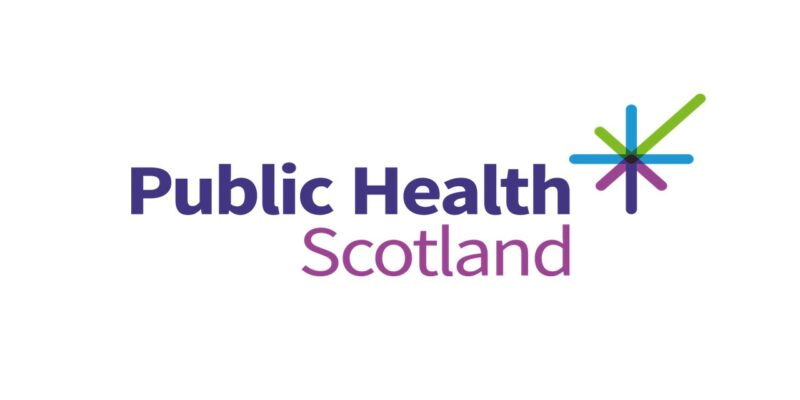 At Public Health Scotland (PHS) we want to see everyone live long and healthy lives. To work towards achieving this, we need a wide-ranging picture of what causes people in Scotland to die earlier than expected and what harms them – including, how this differs across our communities. We also need to know how these factors have changed, such as due to the recent COVID-19 pandemic or through population ageing, and how they continue to evolve over time. Our Scottish Burden of Disease (SBOD) study was set up to monitor changes to population health, by taking into account differences in harm from causes of disease, injury and death across the entire life course from birth to death (infographic below).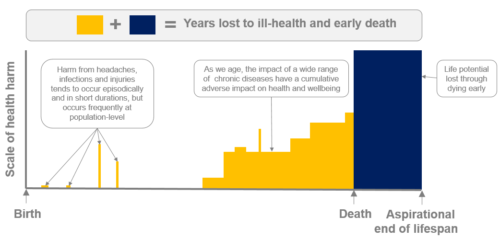 This work underpins the public health surveillance role of PHS and helps us to show where improvements are needed at local and national levels to reduce health inequalities and enable people to live healthier, for longer. Through SBOD, we're able to scale the contribution of health loss from over 100 diseases, injuries and risk factors, alongside each other. By doing this, we can provide insights into where health improvements are required and where adverse health outcomes are arising through unfair, unjust and systemic, inequality – such as health loss due to COVID-19 infection. It also helps people to make balanced and more equitable decisions about where the biggest public health gains can be made through tackling diseases or reducing exposure to the things that harm us the most – like tobacco and alcohol. Both are important when considering whether our services, and approaches to improve health and wellbeing, are best linked to local population health needs.
The findings of SBOD have already been put to practical use, including making sure that the wider health harms of living with health conditions are considered, such is the case for: mental health, musculoskeletal, and headache disorders which are amongst the leading causes of health loss in Scotland today. Improving these areas remains fundamental to tackling our public health priorities for Scotland. Our latest data are now available to support ongoing and future work and feature a new data visualisation tool with over 70 diseases and injuries, broken down by region, health board, local authority, sex, and age-group. Scenario planning is also a key use that can help proactively plan for the future by ensuring care services and workforces are proportionate to the scale of task that lies ahead. This is especially important as we recover from COVID-19.
Health inequalities and COVID-19
COVID-19 has caused almost unprecedented change across health, education, the economy and social interaction. And as a result, exacerbated the health inequalities that existed prior to the pandemic. Estimating inequalities in the population health impact of COVID-19 infection in Scotland in 2020 was another recent aim of work through the SBOD study. This was measured using disability-adjusted life years (DALYs), which combines years of life lost due to early death and years of life lost due to living with ill-health.
We know the substantial health impact of COVID-19 hasn't been shared equally across communities. People living in our most deprived areas lost over two-and-a-half times the number of years lost to ill-health and early death, than those in our least deprived areas. These findings are borne out of a legacy of systemic inequality, which existed before the pandemic and are continuing to persist with even greater impact. Across our range of work at PHS, we have also found the COVID-19 pandemic has led to differential adverse impacts and risk heightening longer-term inequality.  This was the case in our COVID-19 Early Years Resilience and Impact Survey (CEYRIS) which found stark inequalities in poorer mental, psychological and emotional wellbeing in low-income households for children, young people, and their parents. Implementing effective policy interventions to reduce health inequalities must be at the forefront of recovery plans to improve population health if we are to see all Scotland's communities thrive.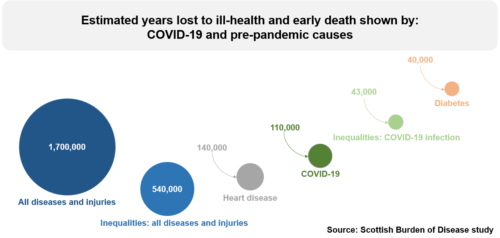 Long term monitoring of population health impacts and causes of death through the SBOD study is one of the ways PHS can track our collective success in protecting and improving health in Scotland. Collaborative, and place-based, approaches are integral to this, and we welcome the opportunity to work with new partners to help shape this work.
Get in touch, find out more and read the latest from SBOD here
Grant Wyper is the Public Health Intelligence Adviser at Public Health Scotland