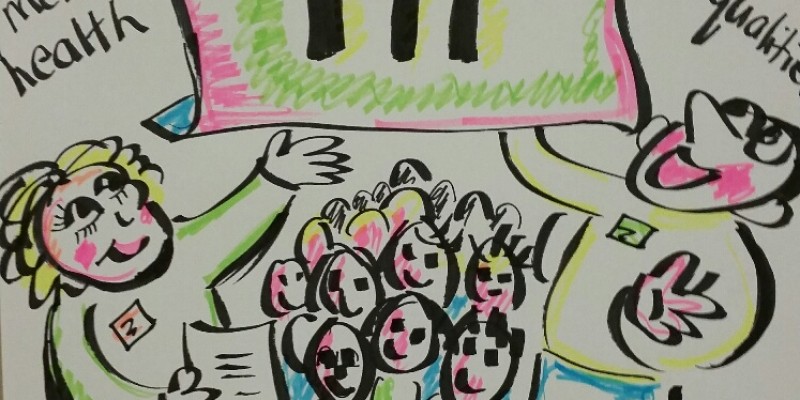 In Glasgow earlier last month 120 delegates to a national health conference organised by Support in Mind Scotland and Bipolar Scotland tackled the totally unacceptable fact that people with mental illness die up to 20 years younger than their peers, primarily due to serious physical health conditions such as heart disease, stroke and diabetes.
One of our keynote speakers, Graham Morgan, brought this statistic to life with the opening comment that, at 53, with a diagnosis of schizophrenia, he is statistically nearing the end of his life, and he questioned why this was not a "national scandal".
There are many complex factors underlying the almost inevitable link between poor physical and mental health and Graham articulated this complexity when he spoke personally about how difficult it is to live with a serious mental illness. But he started by candidly pointing out that these serious physical illnesses are caused by lifestyle choices including unhealthy diets, smoking, drug-taking and lack of exercise. It isn't easy for anyone to kick life-shortening bad habits: "There are many complex factors underlying the almost inevitable link between poor physical and mental health".
For people with mental illness, there are overwhelming additional barriers to change including the impact of anti-psychotic medication itself that induces weight gain, stimulates an appetite for snacking, and then acts as an emotional cosh – removing any energy and motivation.Added to that are the painful, non-physical and devastating impacts of living with a chronic mental illness. In the mental health support world, we need to respond on a personal level and have dipped into the healthy living toolbox to run classes and groups, and provide personal support to motivate and encourage people to take control of their own physical health – and these certainly do help some individuals to make small lifestyle changes that make a difference.
But what turns this into a "national scandal" that puts responsibility for addressing it at the door not of individuals but of society? Research over the past 20 or more years has raised this debate and challenged health authorities and governments to see the solution to this problem being not about changing how people behave, but about eradicating the massive health inequalities that continue to undermine the quality of life of huge swathes of our population.
We know that having a serious mental illness puts someone significantly more at risk of unemployment, homelessness, poverty and imprisonment. We know our mental health services are at breaking point, people struggle to get admitted to hospital, or even be seen even when they are in distress. Finally, we know that most people with mental illness experience stigma almost on a daily basis.
Looked at from this wider, societal perspective, perhaps we can understand that if someone feels alienated, and that society not only doesn't care, but actively rejects them – then it is no wonder that they do not always have the resources and the resilience to make life a better, happier, brighter place. Understanding this perspective is what turns this issue from one of supporting individuals to change their lives, to one of addressing a fundamental denial of people's rights to quality of life – the "national scandal" that opened our event. Our two organisations are running a See Me-funded project called Equally Fit that will help us reinforce this message where it matters and we ended our event with a call to action – for anyone interested to join our Change Network to tackle this important rights issue.
For anyone still to be convinced, I leave the final word to Graham. He said: "We need those who have rejected us to reach out and to apologise and to try to do better rather than telling us that it is our own fault and that if we just retrained, took the meds and looked for work, life would be better."

Frances Simpson is CEO of the national charity Support in Mind Scotland and is a Trustee and Director of VHS.
Her  blog first appeared in The Scotsman on 31st March 2016.