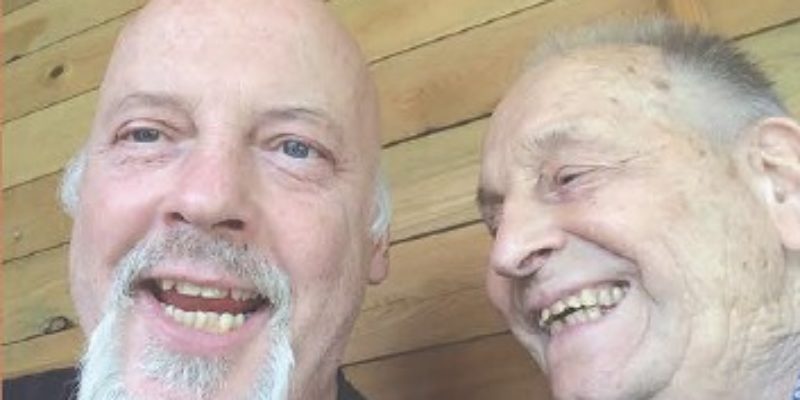 The Harmonious Place project is part of the collaborative practice of Emma Ainsley, artist, and John Phillips, musician – we do creative things by putting art and music together.  In the past we have made video and performance works together (you can see more about us and our collaborative practice here:  http://ainsleyphillips.com/ )  While working on our creative practices we've also always worked in care environments and we both have over twenty years experience working in care.  This current project, Harmonious Place, has sprung from this experience of working alongside people.  The project in Dundee is the first Harmonious Place project co-creating an art/music project alongside people with dementia and we'll be doing more in the coming year.  More about the broader project here:  http://harmoniousplace.com/
In Dundee we worked alongside groups of residents in two council care homes (Turriff House and Janet Brougham House) to co-create a video soundscape about what it means to belong to Dundee.  We delivered a series of four workshops in each care home to work with the residents exploring themes, imagery, sound and music in order to develop material for the finished video piece.  We created tools to help participants to be able to access and engage with the sessions, the tools were made to ensure that people could engage in different ways including non-verbally – we had large repositionable collage boards to help us all to explore visual themes with images, shapes and colours and a midi keyboard hooked-up to an IPad to allow everyone to explore, mix, and layer sounds and instruments.  It was interesting that participants engaged enthusiastically with both the low tech visual tool and the more high tech sound tools – pushing buttons and turning knobs turned out to be as attractive as rummaging through shapes, colours, images and textures.
As this was our first time working in this co-creative way with people with dementia we didn't really know what to expect, but the sessions were amazing, the participants embraced us and the process of making the work together with great creative energy and good humour.  It was exciting to create with people in this way and we got brilliant input to inform the final piece out of every session.  The initial concept behind the piece was to look at a sense of belonging to a place and the participants completely got this concept and embraced exploring what that would look and sound like.  We were keen to focus on exploring individuals' thoughts and feelings about belonging to Dundee through visual and audio elements in the here and now, rather than seeking to purely reminisce and focus on the past.  The participants enjoyed the sessions, finding them engaging and good fun and were excited to see our initial video and sound sketches when we came back to share them.
Making art is a dead serious business, but it's also very good fun.  For us, an important part of the Harmonious Place approach and projects is to respect and promote the skills of people with dementia as artistic co-creators with their own particular perspectives, skills and expertise.
The final piece is a 30 minute video soundscape titled Belongs To.  The piece is non-narrative, focusing rather on the abstract and symbolic imagery developed during the sessions with both the imagery and the sound/music developing slowly over the course of the piece.  We wanted to make a piece co-creatively with people with dementia that would also be accessible and engaging to people with dementia – we hope that all sorts of people will enjoy the piece too.
The piece was launched with a celebration at Janet Brougham House on 27th September and is now freely available online.  We hope to tour it around Scotland next year, offering screenings and workshops to share and spread our co-creative approach.  We have also developed some participatory music sessions for people with dementia which focus on the experience of creating music together and jamming in the moment with no pressure to have a concrete outcome – these were piloted in Dundee council care homes (and a day centre) in October, and we'll be delivering them in private care homes in Fife and Edinburgh through November and December.  So, this soundscape project in Dundee is just the start of an exciting project ahead.  We're so grateful to Dundee Health and Social Care Partnership for welcoming us and supporting us with this new project and for being so open to something that probably sounded a bit weird (what is a video soundscape anyway?!).
The final video piece can be streamed here.
Emma Ainsley is an artist from the Harmonious Place Project
View the poster which has been chosen as a finalist for our Annual Conference Poster Competition: Harmonious Place