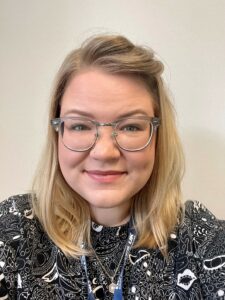 Emma joined the VHS Board in November 2022. Emma works at Diabetes Scotland as Health System Engagement Lead, working to influence, support, and work collaboratively with senior level decision makers in the health system to improve outcomes for people living with and at risk of diabetes. Emma has lived with type 1 diabetes for 25 years so also brings a lived experience perspective to her work.
Emma has volunteered and worked in the higher education, mental health, and student support sectors for over 10 years. She previously worked at the Nightline Association, leading on developing suicide calls training for helpline volunteers.
Emma is particularly passionate about involving co-production and lived experience into all aspects of her work, as well as promoting the power of peer support.