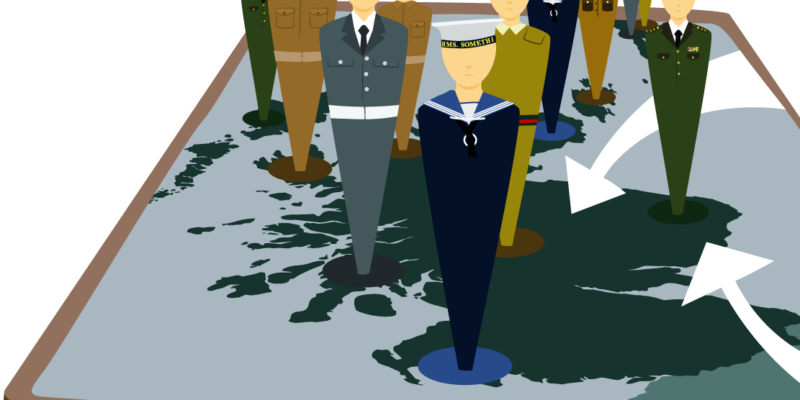 Imagine a military veteran.  Are you picturing someone standing proud, wearing a blazer with medals? Or someone whose life has fallen apart because of traumatic experiences during a conflict?  It's less likely you will have in mind a man in his 80s who spent a very quiet 18 months doing post-World War 2 National Service. Or a Reservist musician who never saw active duty.  Yet the Governments of all UK nations will consider you a 'veteran' with a minimum of one day's paid service, in uniform, with HM Armed Forces, so veterans include all the above, and more.
That matters because of the Armed Forces Covenant.  The Covenant is the nation's promise that those who serve, or have served, in our military, and their families, "should face no disadvantage compared to other citizens in the provision of public and commercial services."  The Covenant also says that "special consideration is appropriate in some cases, especially for those who have given most such as the injured and the bereaved."
Public bodies are legally obliged to pay 'due regard' to the Armed Forces Covenant in planning and provision of housing, healthcare, and education services.  Every NHS Board and local authority has appointed an Armed Forces and Veterans Champion to help ensure this happens. Yet awareness of the Covenant in the healthcare and other sectors remains patchy, and so ex-Armed Forces men and women too often miss out on their entitlements.
Many Armed Forces charities apply the governmental definition of a 'veteran' and offer support to a far broader range of people than is commonly supposed.  An example is Unforgotten Forces, a multi-charity partnership led by Age Scotland which aims to boost the health and wellbeing of ex-Armed Forces men and women in Scotland aged 60 plus.   Collectively, Unforgotten Forces partners can assist with information and advice, income maximisation, independent living, welfare during NHS treatment, transport, and more, plus camaraderie and wellbeing activities opportunities.  For details and to make referrals visit our website Unforgotten Forces .  Some people supported by Unforgotten Forces charities have more complex lives because of their past military service, but for others their support needs are age-related.
Community Link Workers are well placed to make a big difference to the lives of ex-Armed Forces men and women who need extra-support.  When taking a referral from a GP, check if the client is ex-Armed Forces. On registering with a GP in Scotland the registration form makes provision for an individual to confirm that they have served in the Armed Forces. If they do so, then there are mechanisms in place for the GP to obtain Service medical records.
However, it is a personal choice as to whether an ex-Armed Forces man or woman wishes to be identified as such in their NHS medical records.  So, simply ask your clients, "do you have a connection with the UK Armed Forces"?   Be aware that not everyone with military service will consider themselves a 'veteran' so it's best not to start conversations with that term.
Where you've identified that someone is classed as a 'veteran' or a veteran's dependant family member, doors can open.  Age Scotland publishes a free 'Veterans Guide to Later Life' booklet explaining their rights and entitlements, which can be read and ordered here.  To stay informed about developments in support services for older veterans, and related learning opportunities for practitioners, you can sign-up here for Unforgotten Forces' monthly email update.
Doug Anthoney is Veterans Officer for Unforgotten Forces: Supporting Scotland's Older Veterans