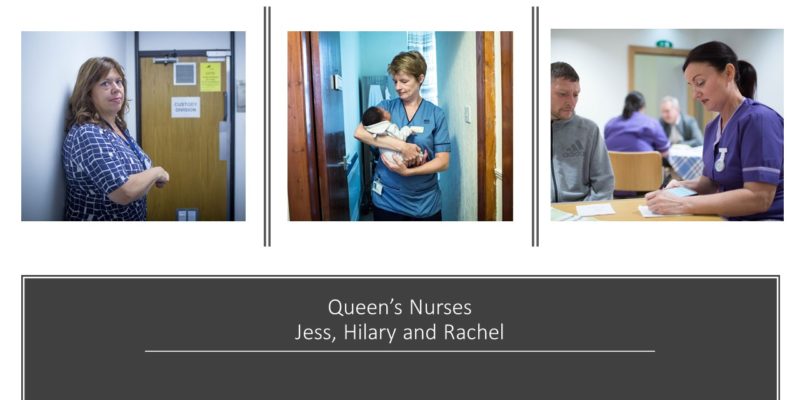 Clare Cable is Chief Executive and Senior Nurse Director at Queen's Nursing Institute Scotland. She writes: 
We are delighted that the Queen's Nursing Institute Scotland (QNIS) has been chosen as one of three VHS submissions to present a parallel session at the  NHS Scotland Event 2019  and hope we may see you at the session on either 30th or 31st May. For those of you who are unable to attend, VHS has kindly invited us to share the content of the presentation as a blog.
The title is 'Working together to address inequality'. We hope to highlight the role of nursing, to open a conversation about how we can work better together to make a difference for Scotland's most marginalised groups. For those of you who've not come across us, we are a small charity with a big vision, committed to social justice and empowering community-based nurses to become catalysts for change.
This is our 130th anniversary year. From 1889, nursing has been part of a wider movement for social change, improving health and liberating women. The Institute was established to enable "the training support and maintenance of women to act as nurses for the sick poor", so social justice has been at the heart of our mission from the outset.
In 2019 we continue to support nurses in Scotland's communities through the Queen's Nurse development programme. It is a leadership programme which includes inspirational, creative and contemplative residential workshops, monthly coaching and intensive peer support, actively engaging the candidates in co-producing improvement. This nine-month journey of discovery enables staff to realise their own potential as change makers, giving them the skills, courage and tenacity to address barriers one conversation at a time.
Throughout the programme we work hard to create a safe space where participants are invited to explore their creative potential in ways they had perhaps not considered previously. It's not about developing artistic talents but unlocking ways of thinking, helping people to look differently at issues, bringing new insights and finding wisdom.
At each residential workshop we slow down time and ensure there is plenty of space to experience and develop a range of contemplative practices which support self-care. There is good evidence of the impact of stress on the body and yet we rarely consider the need for staff to develop the tools to maintain their own wellbeing; the programme seeks to enable participants to find silence and reflect deeply.
There is a strong focus on improvement and each candidate comes with an area to explore and develop. We introduce Theory U which challenges us to listen deeply and observe (Otto Sharmer (2018) The Essentials of Theory U: Core Principles and Applications, Berrett-Koehler Publishers). Sometimes that doesn't come naturally to those of us whose professional training is problem solving. We spend a lot of time unlearning the instinct to fix; to step back, be curious and listen to the many other voices in the system, particularly to the voices of the marginalised and those whose views do not accord with our own.
The programme exists to enable clinical leaders to make a difference in their communities and three nurses who have been through the nine-month journey share their stories.
Jess Davidson is Senior Clinical Forensic Charge Nurse, based at St Leonard's Police Station Edinburgh. She has introduced preventative care to police custody. Working with police, health, local authority and third sector colleagues, Jess helps people to form relationships that can enable them to realise a different future, through trauma informed care, alcohol brief intervention, real time Hep C testing and arrest referral conversations.
Hilary Alba is a senior midwife in Glasgow working with refugees and asylum seekers. Her expertise is in working with women who have experienced trauma and FGM. She co-created a new way of preparing pregnant women who are asylum seekers for giving birth in Glasgow, negotiating the NHS systems. She worked with British Red Cross and a range of other agencies. They used whispering interpretation and the women's other children were welcome in the sessions. This has been transformational for the women involved.
Rachel McReady is a Parish Nurse, employed by the Steeple Church. She mapped all the recovery support across Dundee for the homeless men and women she works with, many of whom are trying to move on from addictions. Working with agencies from the statutory and voluntary sector across the city, she gathered information and set it out in a pocket-sized format so that people have what they need to access support each day of the week. She raised the money herself by running a half marathon to pay for the printing costs.
All three were enabled in their improvement journey through the Queen's Nurse development programme and they now proudly hold the title Queen's Nurse. You can find out more about the work of the Queen's Nurses on the QNIS website.