Capacity, camaraderie and cohesion were the themes of the day at the Centre for Contemporary Arts in Glasgow last Thursday afternoon, as Universal Comedy presented an outstanding afternoon of comedy.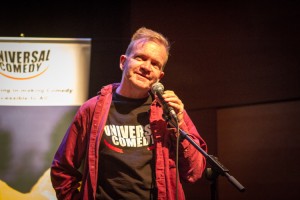 Universal Comedy is a charity and emerging social enterprise, founded in 2004 by Patsy Morrison, which offers practical skills for people isolated through ill-health.  The charity provides free comedy workshops to individuals with the aim of improving confidence, self-esteem, motivation and recovery.  Susan Lowes, VHS Policy & Engagement Officer was lucky enough to attend The Clinic; An Afternoon of Serious Stand-Up and saw an hour of outstanding comedy, created and performed by some of the course graduates.
Professional comedian JoJo Sutherland expertly compered the clinic and the talented comedians led the audience laughing through song, poetry, storytelling and stand-up.  The event showcased just how powerful the organisation is at helping people and demystifying illness. The laughter was contagious and what really came across strongly was the camaraderie between graduates and staff.
Organisations in the Voluntary Health Sector do a lot of work with individuals and communities to tackle health inequalities in Scotland.  We at Voluntary Health Scotland are increasingly aware that to effectively tackle inequalities, more work needs to be focused around empowering people and working with communities to build community and social cohesion. Evidence shows that some people are more resilient to health inequalities than others – and one of the key differences is connectedness and higher levels of community cohesion.  It is clear that Universal Comedy is striking the right balance between learning new skills and achievements, and making new friends.
Patsy started the charity following a visit to hospital, where she saw the power of jokes to unite people and that laughter might actually be the best medicine; being far more contagious than any illness could be.  The charity has grown from there and helps people when sometimes life is not a laugh a minute.
There are now three strands to the charity's work, includingThe grant will allow the charity to provide free comedy courses aimed at improving confidence and self-esteem, as well as reducing the social isolation and depression that ill health — mental and physical — can cause.  providing:
Taster sessions, comedy workshops and developmental training courses for individuals
Workshops for business – providing experienced professional comedians as tutors in workshops to help deal with difficult situations within the workplace, to improve staff morale, teambuilding, performance and productivity.
Performances, partners and events – working in partnership with a range of organisations, providing stand-up, interactive comedy and short performances for conferences, annual meetings, events and launches.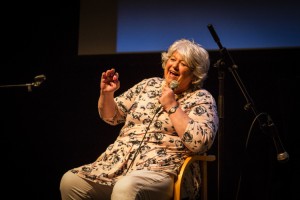 If you'd like to see the Universal Comedy in action, they are performing at the Edinburgh Fringe Festival on Tuesday 19 August 2014 at 13.45 at the Gilded Balloon – click here for more information and details of how to book – https://www.edfringe.com/whats-on/comedy/clinic-an-afternoon-of-serious-stand-up?day=19-08-2014&performance=14%3A10977
You can also contact them directly via the details below:
Universal Comedy Finnieston House (Ground Floor)
9 Argyle Court
1103 Argyle Street
Glasgow
G3 8ND
enquiries@universalcomedy.co.uk
Facebook: Universal Comedy
Twitter: @UniversalComedy
0141 564 1200