Building an Intergenerational Nation
2022 is proving to be an exciting year for Generations Working Together (GWT) who are leading the Excellence Awards which offers recognition for intergenerational activities / projects across Scotland. The Awards will be presented at GWT's International Conference, 'Building an Intergenerational Nation' which is being held from 7th to 10th March.
Due to the continued uncertainty of the pandemic our board of Trustees decided to offer an online version of the annual international conference. This will enable speakers from across the globe to join our conversation expanding and sharing knowledge around the field of intergenerational practice.
The week will include three afternoon sessions and an evening conversation to celebrate International Women's Day. The Conference Programme and registration can be found here.
As a nationally recognised centre of excellence supporting the development and integration of intergenerational work across Scotland, Generations Working Together (GWT) invites you to become a member of their network: this is  FREE to anyone living in Scotland – join here.
Global Intergenerational Week 25th April – 1st May 2022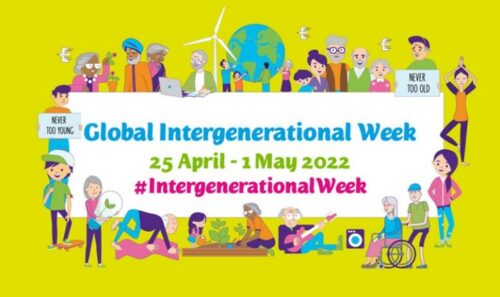 A campaign connecting everyone who is passionate about everything intergenerational. In its third year, the week looks to inspire individuals, groups, organisations, local/national government, and NGOs to fully embrace intergenerational practice, connecting people of all ages especially the younger and older generations. The campaign will celebrate good practice, ideas, moments, and opportunities local to us where different age groups come together, and intergenerational friendships can be formed.
If you are interested in taking part in the 2022 campaign, please follow this link and find our more.
Intergenerational Training
Intergenerational work is a proven approach which addresses a range of challenges facing people living across Scotland and the UK. Due to a growing bank of research and evidence, intergenerational learning is gaining higher profile within the voluntary, public, and private sectors and supports the delivery of the Scottish Government's policies and strategies including A Connected Scotland and A Fairer Scotland for Older people.
Applying an intergenerational approach to your work benefits not only the participants but the workplace and the wider community itself. The training can be offered online, face to face or bespoke, and is being delivered across Scotland this year.  See the website for dates.
Bella Kerr is the Inergenerational Development Officer for Generations Working Together.
For further information or to arrange a chat contact Bella