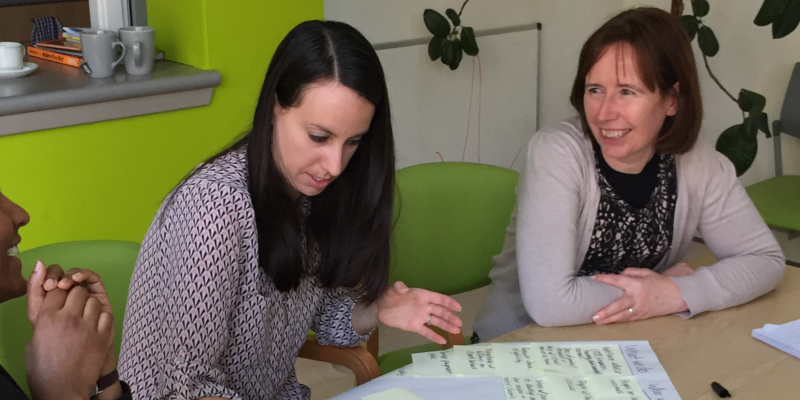 Members of the Tasting Change Wester Hailes team apply the Matter of Focus approach to their work
Evidence now shows that nearly everything in your life affects your health and therefore can contribute to health inequalities, from what primary school you attended to how close to the motorway you live. For organisations working to reduce health inequalities, understanding the complexity of the context they're working in and how this context can contribute to health inequalities is critical to being able to address them.
We support public and voluntary organisations to understand and evaluate the difference that they make. Many of the organisations we work with are helping people who face inequalities. Through this work, we've learned a lot about how to ensure an inequalities lens is part of our approach.
The importance of context
Our approach to evaluation focuses on calling out the contextual factors that can impact on a project or programme, with a consideration of context then incorporated throughout ongoing evaluation.
When we start working with an organisation, we typically spend some time focusing on the different contextual factors that can influence the success of their project or programme, before looking at the specific intervention and how change happens. This works well for a few reasons:
It gives people a chance to talk about the challenges of the context that they are working in and what is helpful.
It highlights risks to the project or programme as well as assumptions about the conditions for change.
It establishes which wider contextual factors can be influenced and which are less amenable to change.
It sets a boundary around what is feasible for the organisation's project or programme to achieve given the context that it resides in, and therefore what to look out for in an evaluation.
Spending time understanding and describing context at the start of developing an evaluation plan can help clarify what types of outcomes are likely to be achievable in the time available, given the contextual factors. It can also highlight risks that will need to be managed and monitored during delivery.
For organisations looking to reduce health inequalities, contextual factors that may impact on a programme's success can be wide-ranging and systemic. Examples of contextual factors could be deprivation, language barriers and an unfriendly political climate. Keeping these contextual factors in mind when evaluating can help set parameters around what is achievable for the programme.
Co-production, partnership working and engaging hard-to-reach groups
Evidence also shows that, unless carefully designed, individual-level interventions can widen health inequalities because the people who could benefit the most likely face many more barriers to taking part than others who have fewer obstacles. Therefore, there is a risk with 'opt-in' programmes that they help the 'worried well' and unintentionally widen inequalities.
Community, systems-level and policy-level programmes and interventions are less likely to widen health inequalities but are more challenging to implement and subsequently evaluate.
We have worked with organisations across the individual–systems spectrum and understand the practical challenges that organisations committed to reducing inequalities face.
Reaching stakeholders can be especially challenging if they are facing multiple levels of deprivation: they're hard to reach for a reason and sometimes organisations need to develop creative methods and approaches to engaging certain groups. Co-production is now a regular part of health inequality initiatives and can help ensure organisations are actively engaging the people they are trying to support.
Early and ongoing evaluation of whether a programme is reaching the right people can help organisations understand if they're reaching the 'worried well' or the groups who could benefit most.
Working with our approach, organisations define their success criteria for what good engagement would look like, in terms of characteristics (e.g. majority from specific at-risk backgrounds) and also quality of engagement (e.g. members of a regular steering group). They can then carefully evaluate against these criteria to see if their activities are reaching the people they intended to reach.
We also know how important relationships are for organisations aiming to bring about complex, people-based change. So much of the work that organisations do to build, maintain and strengthen relationships and partnerships is invisible or underappreciated by funders, commissioners and other stakeholders. Working with our approach, organisations can surface the important role that strong relationships have and how they contribute to improving outcomes. We put relationships front and centre in understanding how change happens and encourage the organisations we work with to include close stakeholders throughout the evaluation process.
Paying attention to context and relationships together is a powerful way of embedding equalities in the way organisations design, deliver and understand their work.
This blog was written by Dr Audrey Buelo, Evaluation Consultant at Matter of Focus.
Matter of Focus is a certified B Corporation supporting public and third sector organisations to understand, track and report on their outcomes and impact. They offer expert consultancy, supported by their bespoke software OutNav, and run regular, free webinars to help organisations understand the difference that they make.
www.matter-of-focus.com