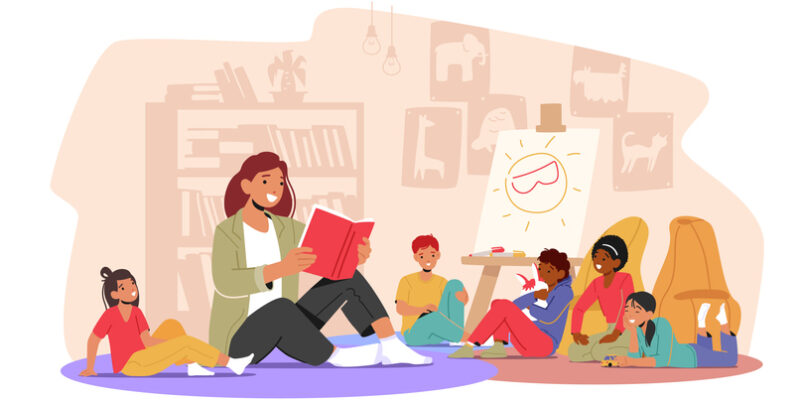 Community Links Practitioner Laura McEwing talks about a community group she has helped to set up at Baillieston Library.
I have been working with a collective made up of grandparents/childminders/parents (mums, dads, grans and grandads) since approximately last September.  We meet in Baillieston library on a Wednesday morning. Our group began originally due to a lack of free and accessible activities and provision for toddlers.
We started the group with songs and stories but soon noticed that the children needed more stimuli as many had been born before, during and after Covid.  One of the childminders had been looking at a pack developed by NHS Greater Glasgow and Clyde and Forth Valley which had sessions encouraging small children and toddlers to use and explore the outdoors more.
We suggested this to the group and they all agreed that this would be good for everyone after the stresses of Covid and lockdown. Many had suffered loss, isolation and long-term symptoms, so this was a good fit for everyone.
So we are now 8 weeks into our programme. As well as outdoor activities, we have also had some sessions at the local day care centre in Baillieston. Children and attendees at the centre have got so much out of it and staff and parents have enjoyed all the activities and spending time together. The centre manager said that they and many of the attendees had suffered losses and were finding it hard to come out of isolation – everyone needed encouragement to integrate.
As a result of the group, parents receive support, new friendships are made. We also share information about other services and activities in the local area and everyone is now looking towards their sessions next year, particularly for those toddlers who won't be moving onto nursery just yet.
We will finish in June with a celebration event with presentations and certificates for the children and we will invite the day care centre attendees. We will also look at working with other organisations within the area to look at new premises for hosting activities.  We may still meet in the library for songs/stories presentations; other activities will have to take place elsewhere as the library cannot accommodate everything we are planning now. Hopefully, in the not too distant future, there will be a new hub planned for the Baillieston area where we can host these much needed activities.
Laura McEwing works for the Alliance and is a Community Links Practitioner at McGlone Medical Practice in Baillieston Health Centre.