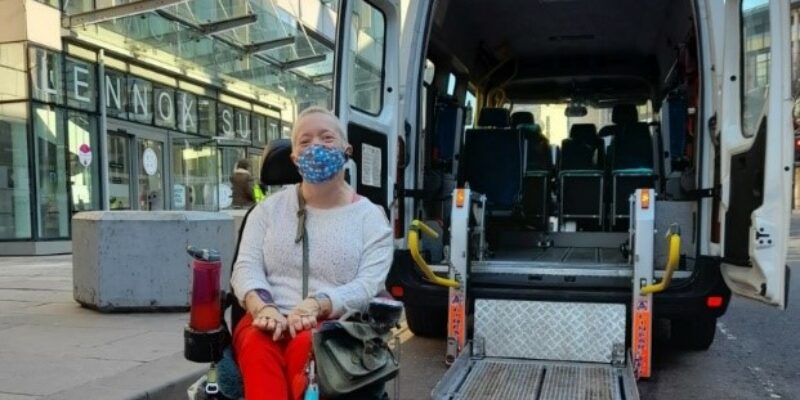 VHS has a fantastic new poster on display at the NHS Scotland annual event in Aberdeen during 21st and 22nd June 2022, and also available online via the NHS Scotland Learning Toolbox.
Produced in collaboration with Volunteer Edinburgh, EVOC and NHS Lothian Charity (formerly Edinburgh and Lothians Health Foundation) and designed by Artlink Edinburgh, our poster tells the story of how Scotland's third sector supported an equalities approach to the roll-out of the Covid-19 vaccines.
To find our poster on the NHS Scotland site, visit NHS Scotland e-posters then click on 'Responding to Covid-19 in Scotland' and scroll down to our poster title, 'Vaccine Inclusion: Reducing Inequalities One Vaccine at a Time'.
The story behind the poster
Throughout 2021 VHS advocated strongly for an inclusion health approach to the COVID-19 vaccination programme.
The impetus for this work came from VHS's national study, Vaccine Inclusion – Reducing inequalities one Vaccine at a time which identified unmet needs, data gaps and scope for improvement. The study highlighted third sector concerns that under-served groups needed targeted communication and additional support to overcome the barriers between them and vaccination. Barriers included digital and language exclusion, lack of transport, mis-information, poor communication, anxieties and fears. Under-served groups included those who were homeless, BAME, disabled, or living in deprivation. VHS shared key learnings from the report widely, and one outcome was that Lothian's third sector came together with NHS Lothian Charity to develop a Lothian-wide micro-grants programme, designed to support grassroots organisations to target, engage and support under-served and marginalised groups to take up both the vaccine and testing.
Lothian's micro-grants scheme
NHS Lothian Charity invested £20,000 from its endowment funds, EVOC managed and delivered the grants and all four Third Sector Interfaces promoted the grants. Grants were up to £500 per application. The programme boosted the capacity of voluntary and community organisations wanting to carry out grassroots activities in support of the COVID-19 vaccination programme and testing. By December 2021 thirty-one grants totalling £14,693 had been distributed, benefitting 4,084 individuals across Edinburgh and Lothian.  That same month EVOC published an Interim Evaluation of the programme, with case studies.
What have we achieved?
Together, the national and local approaches meant the third sector was able to:
highlight the needs of people who find healthcare and other public services hard to access and who need more support to do so
harness third sector intelligence and resources to identify, engage and support people at greatest risk of missing out on the vaccine because of inequalities or hesitancy
promote and facilitate targeted communications to reach under-served groups
promote and facilitate assertive outreach approaches to vaccine delivery
advocate for improved data collection on vaccine take-up amongst under-served groups
influence national vaccination policy and implementation
Lessons for the future
Our poster concludes that NHS Boards should view the third sector as part of a whole system approach to ensuring all vaccination programmes are inclusive and seek to mitigate health inequalities. The third sector is not routinely seen as a partner in the design or implementation of vaccination programmes, but its high level of reach and trust in under-served communities can be harnessed to improve individual and population outcomes.  We also propose that NHS Boards should consider using endowment funds to develop micro-grants programmes in partnership with the third sector, to assist an inclusion approach to public health programmes like vaccination, testing and screening.
For more information, contact Claire Stevens, Chief Executive, VHS.